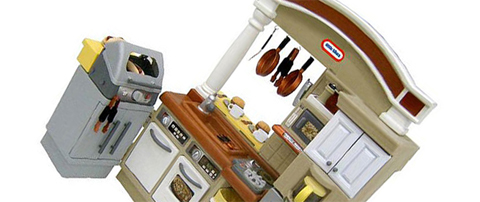 In an email from Toys R Us Canada, they showed a few half price products. The workbench was out of stock, but this Little Tikes kitchen is still available at a good price.
The little kitchen was $189.99 and is now $94.97. This is maybe the kind of offer you should snap up, and put it away into storage until Christmas morning!
When I was young, we had one of these in my first school, and I loved playing on it. A few friends had one at home too, which seemed to be a complete extravagance to me! My family couldn't afford that kind of thing... the best we could do was keep old yoghurt pots and packages for "pretend" play.
I noticed that TRU is labelling themselves as "Canada's greatest toy store." What do they base this opinion upon!!?
(Ends 8th August 2010)