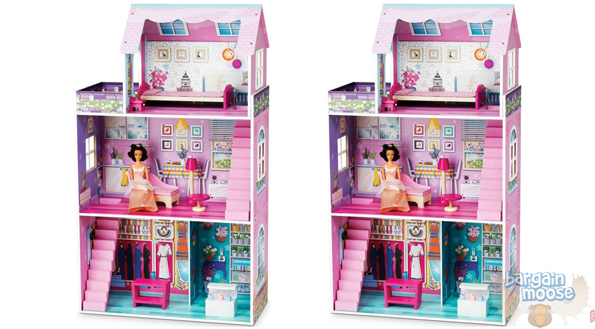 I was browsing for some toy ideas on Sears, and I spotted a great price on this Jupiter Traditional Dollhouse which also comes with a set of furniture. It's a half price offer, down from $149.99 to $74.99!
And what is even sweeter is that there is a Sears toy coupon which gets you $10 off a $75 spend – it is 941612854. Now, I know that the above doll's house is one penny short of the minimum threshold for that coupon code, so I'd recommend popping something small into your shopping cart to take advantage of the extra $10 saving.
The full terms and conditions of the aforementioned Sears coupon code are here on this page, so make sure you read the small print before popping another item in to your shopping cart.
Or, if you really want to, make your cart up to the $99 mark and avail of the free shipping from Sears. That's likely to be your best bet – that'll save you on shipping costs too.
I tried to find some low value toys to make up the extra penny. You'll have to add a toy that doesn't end in .88 or .97. Here are a few ideas:
If you spot something else, let us know in the comments below.
Here's the part you need to watch out for - adult assembly required. If you're buying this as a Christmas gift for your little one, I really recommend building it well before the big day. If you leave the building until Christmas Eve, you might find a problem or be unable to build it correctly, then you'd be stuck! Build it sometime sooner to make sure everything is in tip-top shape and there are no disappointments on Christmas Day. I ordered a slightly different doll house for my daughter last week, and that's just what I will be doing.
(Expiry: 23rd November 2014)