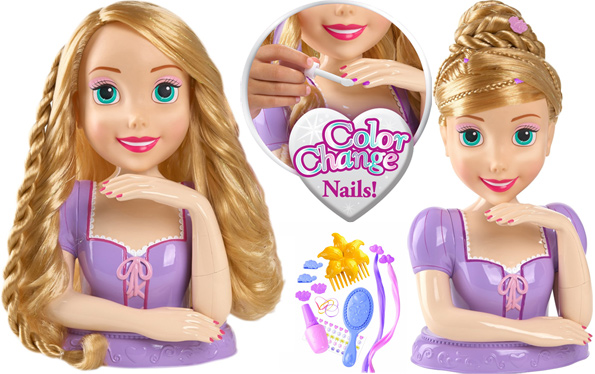 The Disney Rapunzel Styling Head is a toy for children aged five to eight… and it's currently on special offer in the Walmart toy clearance sale right now. This toy was originally priced at $36.92 but you can get it for only $18!
As I mentioned, the Disney Rapunzel Styling Head is in the clearance section so we've really got no idea how much stock there is left on it. It could possibly sell out quite fast, so if you're interested at all, grab it now.
While it doesn't specifically state it on this listing on the Walmart site, I believe this is the princess Rapunzel from the Disney Tangled movie. Have you seen it? It's a fab little show!
I loved the review from a shopper on Walmart, here it is:
I bought this for my 8 year old Goddaughter & she absolutely loved it. She opened it & started playing with everything. The hair, how the nails change colour, everything. She was really excited about it. I loved having her open that on Christmas day.
I can imagine my little girl would be the same! I can imagine LOTS of little girls would be the same. :) While my daughter is just as happy playing with Iron Man and Captain America, she still loves to brush a doll's hair from time to time. :)
If you are price comparing or anything like that, make sure you note that there's a type on this listing on the Walmart page. They call it the "Rapunzal" head but the correct spelling is "Rapunzel." I checked everywhere else to make sure that this was a good deal – and I am very confident that it is. There are a number of similar Disney styling heads on Amazon, and they're $60 or more. You can also get other characters, such as Elsa from Frozen… but they're all coming in at quite a bit more expensive.
Shipping – Walmart offer free shipping on a $50 spend. Alternatively – order online and collect for free!
(Expires: unknown)