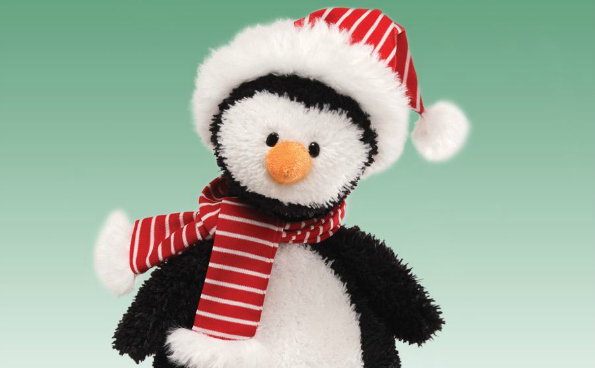 Christmas is around the corner and you might wanna add this adorable Christmas penguin to your shopping list. it is made by the legendary plush company Gund, which has been making stuffed animals for over 100 years. Originally $23.99, this Christmas Penguin is on sale for just $10.11.
As the saying goes, "Gotta get a Gund for Christmas." Gund plushies for Christmas is traditional in many families and you can pick up this Christmas-themed Gund stuffed animal for just over $10.  When I price compared him with other retailers, he costs $21.75 USD @ Amazon.com and $15 USD minimum @ eBay.com before shipping.
Snowflake the Penguin wears a red/white hat and scarf. His adorable little body is soft and cuddly, while his butt is stuffed with beads to make it easy for Snowflake to sit. He measures 11" from head to toes and comes in at about 5.5" when he is sitting down.
Snowflake's features are completed with a felt nose and felt feet with securely attached oval eyes. I think it is an understatement when I say he is so darn cute I just want to grab and snuggle him! What adorable little beady eyeballs!
While there are lots of companies that make stuffed animals, Gund is one of the best. you are guaranteed a quality product made of soft and durable materials. Yesterday I posted a flat Gund bear on sale and it now has limited stock and has gone up in price! Gund is such a popular plush brand and they are even more popular around Christmas as they make some of the best Christmas-themed plush toys around.
Amazon Canada offers free shipping on orders of $25 or more. Amazon Prime members can get Snowflake the Christmas Penguin shipped for free. If you are looking for other amazing Gund plush deals, then check out the Gund Uglydoll Pillow Tutulu/Groody, 14.6-Inch Plush on sale from $30 down to $13.29. The Gund 15.75-Inch Teach Me Elmo is also on sale from $44.80 down to $27.52. Add these or other awesome Amazon deals to your cart in order to receive free shipping.
(Expiry: unknown)