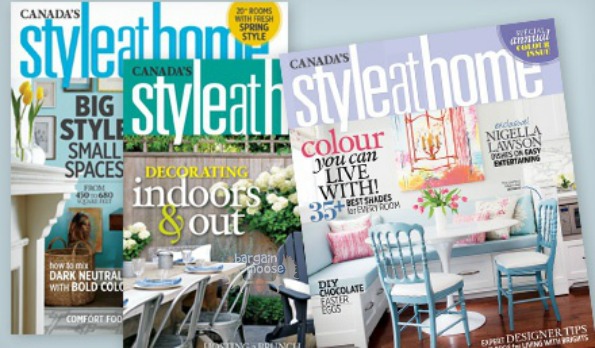 Groupon Canada has some style for your home with a one-year subscription to Style at Home magazine for only $9.99,(regularly priced at $19.99). Actually, a subscription to this magazine from their website costs $24.95, but Groupon is also adding a shipping charge of $5.95, so the actual deal costs you $14.95. You still save $10 whichever way you look at it.
I do love me some Style at Home magazine. I am a magazine addict, but I am very picky with my magazine subscriptions. I've had this subscription many times because I love that it is Canadian and everything you see you can actually get in Canada. I love the ideas for my home and although they only feature a few recipes, the recipes are always absolutely divine! I actually prefer a magazine with only a few recipes that are tested to be great, rather than one full of just a miss-mash of everything.
You can buy one voucher for yourself but up to five as gifts. Would Mom be interested in one? Your voucher expires on October 2nd, 2013 so you must activate your subscription before then. It will take six to eight weeks to receive your first issue and you'll get them on a monthly basis after that.
(Expiry: 10th May 2013)