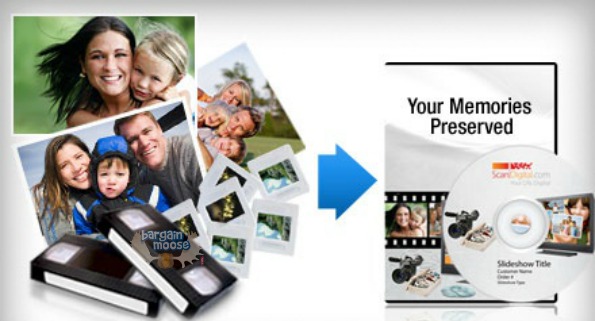 Do you have boxes of photos, slides, VHS tapes or even reel-to-reel that you want to keep, but don't have the room for? Convert them to a digital format effortlessly with this Groupon, where professionals will delicately convert all your media onto archival DVD.
My mother-in-law and my mother both recently purchased scanners to start scanning in all their old photos and slides. The scanners probably cost a small fortune for a good quality one and the time it takes to scan each and every photo or slide is exorbitant. You can let someone else do the work and not pay a load of money to do it.
For $29, you'll get $100US of digitization services. For $75, you'll get $250US worth of services. $100 gets you about 200 photos, 175 negatives, 150 slides, etc. The harder the item to scan, the more it costs per piece. You can mix your pieces or just send in one type of media. You can even get a discount when you send in over 1,000 pieces and pay the bulk rate while using your Groupon, but only one Groupon can be used for this.
You can buy three per household and use all three in one visit for the $100 option, but the $250 one has a limit of one per person.
The voucher expires 180 days after purchase.
(Expiry: 24th June 2013)