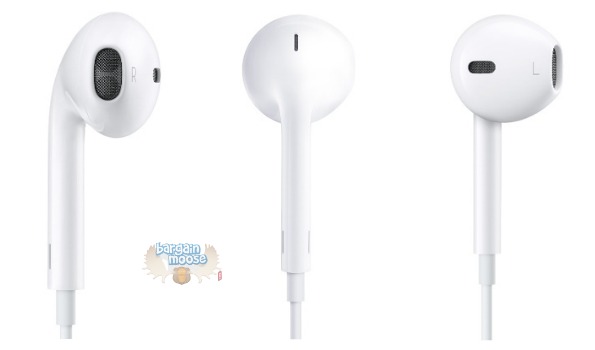 Groupon has an Apple event going on right now where you can get up to 75% off select Apple items. The best deal I found was on the Apple EarPods with remote and microphone that were $29.99 and are now $17.99. The regular price for these are higher I found at other Canadian online retailers.
I actually have these earpods and it was a revelation getting them. I used to put my phone on speaker when I was talking while driving to keep my calls hands-free, but no one could ever hear me. Getting these headphones with microphone made the phone calls crystal clear and kept me safe while driving, or doing anything really.
I also use the headphones with my iPod for running and walking. It says you can also use them on non-Apple devices. You don't have to worry about using them while working out and sweating as they are resistant to wetness.
These are new headphones, not a refurb with a one year warranty directly from Apple. Shipping is $4.99, which is a bummer, but still makes this deal sweet. Searching for the product number, I found that these are the older set of headphones and stores like Newegg were sold out. The newer version, which looks exactly the same to me sells for $35 at Apple, $39.99 at Best Buyand $35 at Walmart. I can imagine the difference between the older and the newer set would be negligible.
There are a few other Apple items that could pique your interest during this sale from Groupon. There is a refurbished 16GB iPad Air on sale for $399.99. Some of the other items on that page are not Apple products, so don't be fooled, but I do see some nice deals that are worth taking advantage of. The selfie stick with remote button seems like a sweet deal, with a regular price of $39 and now only $9.99. Over 1,000 have been sold so I think others agree with me!
(Expiry: Unknown)