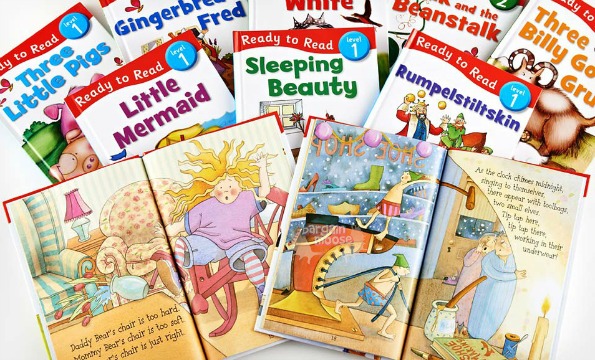 Get this ten-book Ready To Read set with reading aids for only $19.99 from Groupon Canada, with a list price of $89.50.
Teaching your kids to read is one of the most frustrating and rewarding processes you can go through (after potty training). I hate watching my kids stammer over words, throw the book in frustration and give up as easily as they started. But I love when they read a word all on their own, start reading books without having to be read to and just generally starting to love reading. I've searched high and low for leveled reading books, but found that levels were always different for different publishers with some having level one with just a few words per page, and some having level one having hundreds of words per page. This set is nice considering the levels are consistent.
This deal includes ten hardcover reading books with two levels. Level 1 has large fonts and simple sentences and level 2 has rhyme patterns and complex sentence structures. Each book is 31 pages with pictures and the story and a Ready to Tell section to help children explain what they just read.
The titles are classics from childhood:
Gingerbread Fred
Goldilocks and the Three Bears
Jack and the Beanstalk
Little Mermaid
Rumpelstiltskin
Sleeping Beauty
Snow White
The Elves and the Shoemaker
Three Billy Goats Gruff
Three Little Pigs
Shipping is $4.99 and only one Groupon can be purchased per person for this deal.
Bargainmoosers, what is your favourite childhood story?
(Expiry: 4th June 2013)