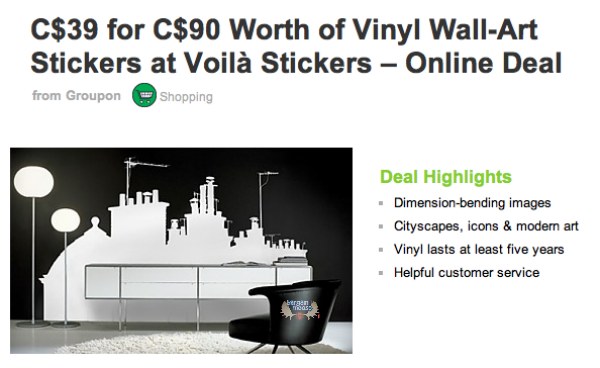 Get some lovely wall art and don't worry about measuring twice, finding anchoring studs and pounding in nails to hang it (my activities last weekend). Decorate your living room, bathroom, or even your kid's room all with these wonderful vinyl wall art stickers. Get $90 worth for only $39!
Details:
Limit 1 per person
May buy 2 additional as gifts
Limit 1 per order
Not valid until 9/27/11
Not valid for sale items
Extra fee for shipping
It is for online redemption and though this deal is found in Edmonton, it is valid for redemption across Canada.
I checked out Voila's website and enjoyed their 'children of all ages' section. The Space Invaders was just awesome, I know several of my guy friends who would love that. I am a more whimsical person, and like the big beautiful wooden horse with trim.