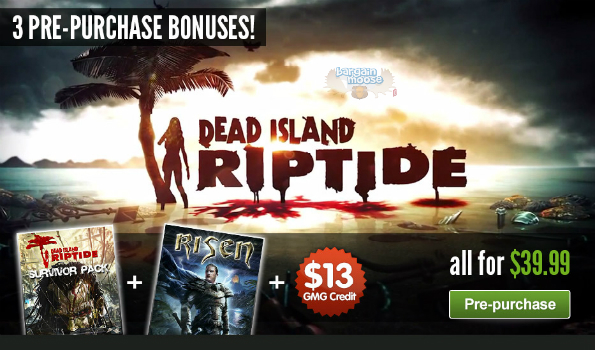 A game, FREE DLC, a FREE game and $13 towards another game. Yeah, sounds like Green Man Gaming has got it going on!
So the game itself it $39.99. Risen, the FREE game is normally $19.99. It looks like DLC for the Dead Island series are between $2 and $10. And of course you get a $13 credit for GreenMan. So all in all you pay $39.99 for about $75 worth of video game goodness.
About this deal:
Customers who pre-purchase Dead Island: Riptide will receive, via your registered account's email address, a single-use voucher to allow a 100% off purchase of Risen (Steam activated version)
In addition to this, customers will also receive the Dead Island: Riptide Survivor Pack DLC, providing a BBQ Blade, an XP / Stats booster, and a special shop in game!
The code for Risen will arrive next week and you MUST be logged into GMG when you use it. The Dead Island: Riptide code and the DLC code will come on the day of launch which is supposed to be 25th April 2013.
(Expiry: Unknown, possibly right before it launches)