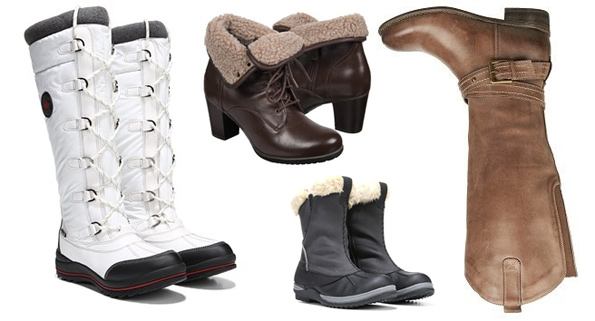 If you're on the lookout for some new boots this winter, then head over to the Naturalizer sale section right now. There's up to 69% off some amazing and stylish pairs, plus you can actually use a coupon code in your shopping cart for a further 20% discount on top of that! Nice!!
Click here to shop the sale boots @ Naturalizer.ca now!
CouponCode: WINTER2015
Discount: 20% off
Expires: 30th November 2015
On the above page, I've shown you all the sale boots sorted by the highest percentage off – isn't it FAB that Naturalizer have a search option to do this!!
I have to say, there are some absolutely gorgeous boots in the Naturalizer sale section. I could easily blow a thousand dollars in there, and fill up my wardrobe with new boots. I know there's a stereotype about women and shoes… but for me, it's boots!!
One of the best deals on boots in the Naturalizer sale (percentage wise) is this pair of AQUA COLLEGE Roxanne black leather boots. These were originally priced at $260 and they're now $79.99 which is 69% off. When you add them to your shopping cart, they drop to only $63.99 when you add the coupon code. This is a total of 75% discount on the original price.
These Cougar Cougar Canuck White Nylon boots really caught my eye! These stunning boots (pictured top left) were priced at $170, they're $136 in the sale, and they're $108.80 in cart. They look brilliant for the winter!
For something a little bit dressier, these brown leather Aqua College Jolenes are quite stylish. They were $190 but you can get them for a final price of only $63.99. I really like the finish on these but I personally don't wear ankle boots very often. I'm more of a knee-high gal. :)
Shipping is actually quite reasonable considering they have to ship out some rather large packages with these boots. The first pair will cost you $5, then $2 for any additional pairs. Not bad, considering the massive percentage you're saving on the sale items!