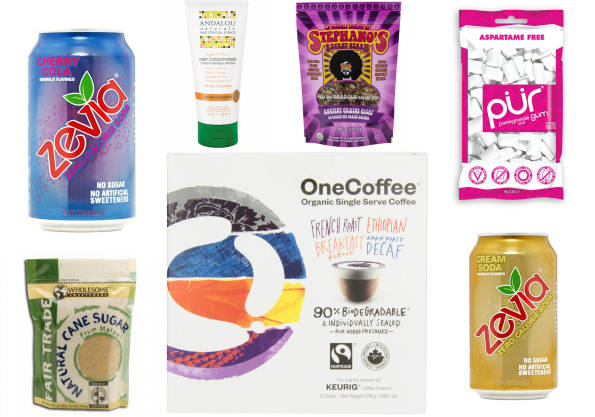 Goodness Me! is my favourite online health food store and I actually have an order in with them right now. I couldn't help but notice that they have a sweet sale section with new additions as well as some old goodies that I already love. On sale, items start at just 67¢ and everything qualifies for free shipping for as limited time only, no matter how big or how small your order.
Let us start with some of my favourite deals in the sale section. First, these sugar-free with no artificial sweetener pops are just the thing to give your kid a soda without all that sugar. This is also a 0 calorie soda - perfect for that new weight loss resolution. I want to try theCream Soda, 354ml and the Cherry Cola, 355mlfrom Zevia. Originally 99¢, they are now on sale for 67¢ each. There are so many other flavours you can choose from in the sale including Ginger Ale, Root Beer, Cola, Black Cherry, and more.
I am practically obsessed by chocolate right now: maybe because I am surrounded by it. Theo's happens to be my favourite brand of chocolate because it is soy lecithin free - so hard to find! This Theo's Milk Chocolate, 85g is on sale from $4.79 down to $2.99. Trust me, this is great chocolate.
I use gum to stave off cravings, and PurGum has some bags of gum chiclets on sale. A bag of Pomegranate Mint Gum, 80g is on sale from $5.49 down to $3.49. The same bag of gum is currently $4.99 @ Amazon. Grab a bag of Peppermint Gum, 80g and Spearmint Gum, 80g as well.
While sugar is bad - we all know that - some sugars are a bit better than other sugars. Consider substituting Natural Cane Sugar - Fair Trade, 681g into your baking instead of white sugar. This bag is on sale from $6.29 down to $3.97.
I find that I buy less food out when I have a snack bar stashed in my pocket. That is less money spent and healthier eating. The Cranberry Delite Bar, 5 x 45g is on sale from $6.49 down to $3.99. That works out to approximately 80¢ per bar. As an average burger or sub out will cost a minimum of $5, that is a good amount of money saved.
Do your body some good with all natural shampoos, body washes, and conditioners. Pick up Moisture Rich Leave-In Conditioner, 200ml on sale from $12.99 down to $6.97. Personally, I need a bottle of Sunflower Citrus Hairspray - Medium Hold, 242mlfor the same price as I recently got a curling wand and need something to hold the curl in my thick hair.
(Expiry: Unknown)