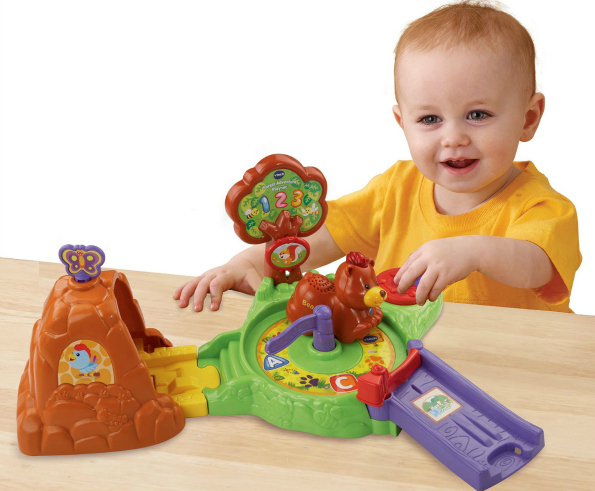 Enjoying the Go! Go! Smart Animals deals that we have had lately? Well, I have another one for you that makes a great addition to any of the previous play sets we have mentioned. The Go! Go! Smart Animals Forest Adventure Playset is currently 55% off at Walmart Canada right now in either French or English. Originally $19.94, this play set is now only $9. Receive free shipping to your local Canada Post location or Grab & Go locker.
This smaller Go! Go! Smart Animals playset includes a SmartPoint bear which is recognized at the two (2) SmartPoint locations on the play set. These Smartpoint locations will teach your child the name of the animal, colours, and other fun facts. There are over 25 songs, melodies, sounds, and phrases your child can hear when they play with this set.
This set also improved fine motor skills as your child moves the bear along the track. They can sing along to sings and learn sounds through interactive play. Like all Go! Go! Smart sets, this set can connect to other Go! Go! Smart Animals or Go! Go! Smart Wheels® playsets like the Go! Go! Smart Animals 'Zoo Explorers' Play Set on sale for $20 at Sears Canada.
Of course, I price compared this set to make sure you are getting the best deal. The Go! Go! Smart Animals Forest Adventure Playset is on sale for $14.97 at Toys R Us Canada but sold out in the English version (still in stock in French). At Amazon.ca, the English version is $19.99 and the French version is $9. If you want the English version, you are pretty stuck at other retailers but Walmart Canada has the deal you want.
One reviewer mentioned that this was a great toy because both her nine-month old and her three-year old children were interested in it. It is really nice when one toy can span multiple learning levels and hold the interest of more than one child.
I like that these sets each come with a different animal. With this set, you will get a bear. The set at Sears comes with a rhinoceros. If you managed to score the tree house deal this morning, that set came with a panda. If you manage to grab all three deals, that is three different creatures, three different sets, for a grand total of $12 + $20 + 9 = $41. Pretty sweet!
(Expiry: Unknown)