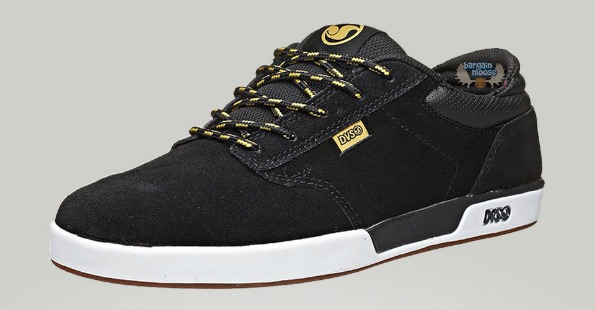 If you looking are looking for a great deal on some hot skate shoes, check out these DVS Vapor skate shoes at Go Gear, regularly $90 and now $26.99.
Not only are these good looking shoes, they've also got tons of technical features. A classic black suede shoe with a white sole and yellow and black laces, you can wear these with pretty much anything.
Because they are skate shoes, they stand up to the abuse that you'll use them for. They've got Hellalyte technology, which absorbs shock from jumps and falls. A hidden vinyl toe cap protects your toes from those same jumps and falls. Memory foam is also added to keep your feet as comfortable as possible while you trick out on your board all day.
On top of that, it has an anti-microbial footbed to reduce the odours that you know are going to happen when you sweat in your shoes all day.
I found these on sale at one Canadian retailer - Exoshop, where they are $69.95 plus shipping. I did find them at a few U.S. retailers like Motosport where they sell for $53.95 plus shipping and duty and at Amazon.com where they sell for $60.98 plus shipping and duty.
Obviously this deal from Go Gear is the best out there. There are shipping charges of $10.95, unless you spend over $100 and then your shipping will be free. Even with those added shipping charges, this is a great deal.
There were no reviews on Go Gear's website, but I found a few on Amazon.com where they give it an average rating of 4.7 out of 5 stars. Reviewers site that this is the best skate shoe there is because it is comfortable and lightweight and can be worn for hours. They allow the skater to do tricks with ease and they don't wear out easily, even after hours and hours of skating.
(Expiry: Unknown)