I stumbled on this article in The Province this morning, which tells about some facts and figures about Halloween costume trends in Canada, this year.
Apparently, Michael Jackson costumes are the most sought after outfits this Halloween! I don't know if that was to be expected, but I personally find it kind of creepy. Lots of midget Michael Jacksons running through the streets, gloves-a-glittering, grabbing candy where they can... sounds like the plot to some obscure horror movie!
At BuyCostumes.com, the searches for "Michael Jackson" paraphernalia are up a reported 1,000% over previous years. 1000%!!!
But you don't have to spend a fortune if your little one wants to be Michael Jackson. You can probably pick up cheap accessories on ebay.ca, and it is likely that you can get the bulk of the outfit from a local thrift store.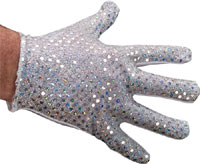 Depending on which of MJ's looks you want to go for… either the "Billie Jean" look, the "Bad" outfit or the ultimate "Thriller" look, you can probably create it from scratch, with just a little bit of time and TLC.