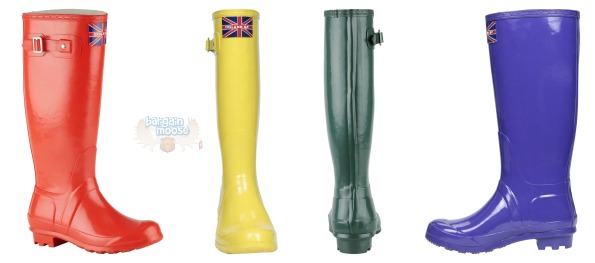 Globo Shoes is preparing you for the rainy season with a great deal on Lauricette Rain Boots. Purchase a pair of wellington-style rain boots for just $29.98, originally $59.99.
I love this sale for so many reasons. First, the boots are 50% off and there are tons of sizes still in stock ranging from size six up to size 12. As a buyer, you also have an incredible amount of choice with this offer. The boots come in seven different colours:
Navy
Purple
Red
Midnight Black
Forest Green
Light Pink
Light Yellow
Standard rubber boot favourites, like green and black, are in stock in all sizes except for one. The other colours still have plenty of sizes available to give you a ton of options.
These rubber boots are the traditional tall wellie to protect not only your feet but also your ankles and calves from water and mud. The front is adorned with a British flag as a little nod to the creators of the original 'wellie'. The boots are waterproof and come with a textile inner lining and a threaded sole.
Like Hunter rain boots, they have the traditional decorative side clasp on the outer upper of the boot. I do not know how many times I have snagged my leggings on that darn metal piece, but it does make the boots look nicer.
These are certainly an affordable option for anyone needing good quality rain boots without spending a small fortune. They are even cheap enough you could have more than one pair. I think black is a good standard to always have as it goes with everything. My wellies are black. However, it is often nice to have a pair for fun. Maybe pick out a pair that will match your favourite raincoat or umbrella.
Unfortunately, Globo gives absolutely no measurements. I assume that larger calves will not fit these boots just like regular wellies. I would really like to know the size of the calf opening and the height of the boot, myself. That is mainly because I have to pay attention to that sort of thing being short and with thick calves.
Globo Shoes offers free shipping on orders of $50 or more. If you plan to pick up to pairs of the rain boots, you will score free shipping. Under that minimum, shipping costs just $5.
(Expiry: unknown)