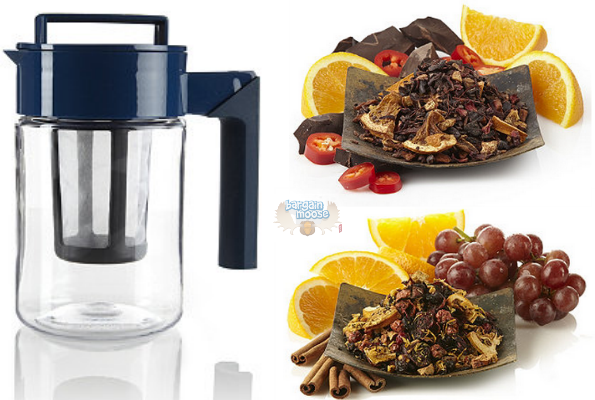 Do you love fancy tea as much as I do?  Score some of Teavana's Orange Chocolate Sweet  Spice Herbal Tea that was $7.98 for 2 oz. but is now only $3.99. Teavana has released a coupon code for completely free shipping that is intended as a US only code, but will give you free shipping with no minimum to Canada also!
Click here to buy the Orange Chocolate Sweet Spice Herbal Tea @  Teavana now
Coupon Code: FIREWORKS
Discount: Free shipping with no minimum
Expires: 5th July 2015
I am giddy with excitement about this deal Bargainmoosers, as I have some truly amazing tea deals to share with you today. First off, as I mentioned above Teavana has released a free shipping code that is intended to give Americans free shipping all weekend for the holiday. I have some good news, the coupon code works and ships free to Canada!
I immediately headed over to the sale section to see what delicious teas I could score at a bargain price. Right now Teavana has discounted the Pumpkin Spice Brulee Oolong by 50%! This is a great time to stock up on some delicious tea for fall. This herbal tea sounds delicious with flavours of orange, chocolate and hints of chilli.
If you enjoy bringing your tea habit into the summertime as iced tea, then you will be excited about this next deal. Grab the Sangria Punch Black Tea that was $9.98 but is now only $4.99. I have been eyeing this Sangria flavoured tea for over a month now but was not willing to pay the shipping costs to try it. I sacrificed for you Bargainmoosers and ordered some for myself to make sure that code works. With flavours of red wine grapes, citrus, hibiscus and currents, this sounds like a delicious tea to sip cold on a hot summer day. Check out my cart here where I ordered this tea:
If you are not sure how to brew loose-leaf tea for summer, you should also pick up the Blue Infusion Tea Pitcher. This pitcher was $16.89 but now is only $13.97. That may seem like a slim discount, but when you compare it to the slightly larger $28 Perfect Pitcher at David's Tea, this pitcher at Teavana that functions the same for iced tea is a steal. I bought the David's Tea pitcher and it is amazing, but I wish I had waited for the deal on this smaller pitcher.
We have seen a similar shipping glitch from Teavana that I blogged last month. I ordered the last time and my order was to my door within three days. I was very happy with both the quality and quickness of my order. If you like these teas, I would order now before Teavana sees this glitch! Teavana does ship from the states, but duties are prepaid at checkout if you spend over $20, and there are no duty costs for orders under $20.
(Expiry: 5th July 2015)