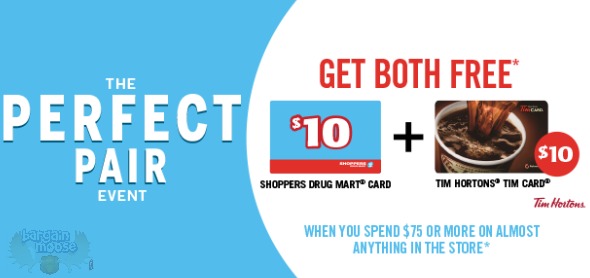 This weekend is the perfect time to do some shopping at your local Shopper's Drug Mart Canada. During Shoppers Drug Mart's The Perfect Pair Event, you will get a $10 Shoppers Drug Mart Card as well as a $10 Tim Horton's Card when you spend $75 on almost anything in the store. This offer is going to be valid on Saturday May 23 and Sunday May 24 only.
Whether you are shopping for makeup or grocery items, you won't want to miss shopping at Shoppers Drug Mart this weekend. When you spend $75 or more you will receive a $10 Tim Hortons gift card as well as a $10 Shoppers Drug Mart gift card to use on a future purchase. Take a look in the weekly flyer before hand and see what deals you can combine with these one to reap the best benefits.
There are quite a few items that cannot be included in the $75 to get these freebies, so shop wisely. The items include lottery tickets, stamps, event tickets, transit tickets, gift cards, phone cards, prescriptions, codeine products. The $10 Shoppers Drug Mart gift card does expire on June 14th, but you can use it on any purchase that exceeds $10. The Tims card does not have an expiry date listed, but I wouldn't imagine that it expires.
So what's on sale this week that you can spend $75 on? Good question. Shoppers Drug Mart Canada has Aveeno and Neutrogena sun and shave care products on sale for 30% off. These are both important for having fun in the sun. If you prefer not to shave, Veet Hair Removal products are on sale for 20% off as well. When it comes to household products, I would definitely take a look at Air Wick Air Fresheners, Finish Dishwasher or Lysol household cleaning products which have select types and sizes on sale for 30% off the regular price. Don't forget, if you are a Shoppers Optimum Member, you will also earn Optimum Rewards on your purchase, to save even more money in the future.
Funny, this Shoppers Drug Mart promotion used to be called the "Double Double Event", I wonder why that changed. Either way, I can't complain about a free $10 Tim Hortons card, as I happen to be fueled by their beverages it seems.
(Expiry: 24th May 2015)