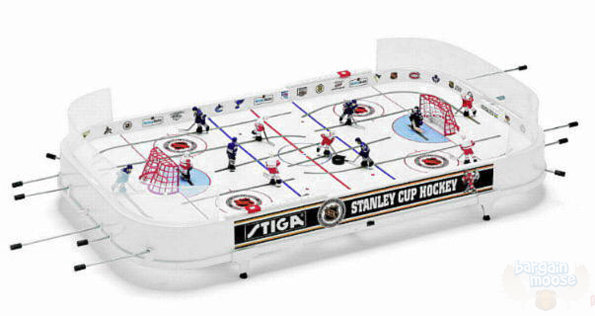 I was just hunting the interwebs for some Black Friday flyers to populate our excellent deals dashboard, and I found the Black Friday flyer live here on the Giant Tiger site. But while I was there, my eye landed on a very good price on a kid's toy and after a bit of research, I realised that this was an absolutely excellent offer. The Stiga Hockey Table Game is usually priced at $129.99 but you can get it right now for a measly $50 with free shipping!
When you click the above link, you'll see the toy for $60. Just apply the Giant Tiger coupon code 10YIPPEE for an extra $10 discount. As this item is over the $25 free shipping threshold, free shipping is automatic too.
There isn't much information on the site about it, other than this:
Two NHL teams
Goal counters
2 pucks included
I googled for reviews though, and there are 3 customer reviews on Toysrus. There are some positive comments, but one negative reviewer. For example:
Best table hockey ever made.
Compared to:
This is the biggest piece of garbage ever.
But to be honest, at such a low price point for this item, I wouldn't expect it to be the most amazing toy in the world – but it's definitely worth the money.
Price Comparison
Elsewhere, this Stiga Hockey Table Game is a LOT pricier. Let me show you the prices elsewhere online in Canada: $120 @ Mastermind, $119 @ Costco, $105 @ Sportsetc, $120 @ Toysrus, $180 @ Amazon. So as you can see, $50 from Giant Tiger is an absolute steal! I honestly have no idea if Giant Tiger have much stock left… so if you are interested in this item, get it now at this very low price.
(Expiry: unknown)