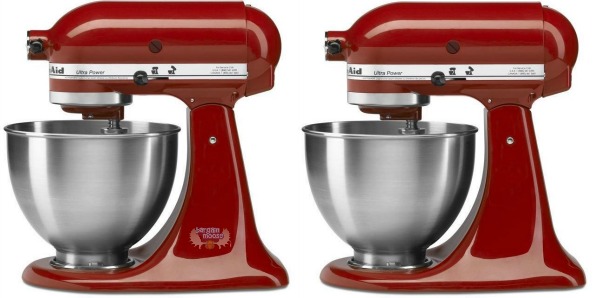 From 12 until 3 today only, use the coupon code below to get $200 knocked off the price of the KitchenAid ultra power series KSM95ER 4.5-quart stand mixer and instead of paying $399, you'll pay $199. You'll want to hurry because this is a hot deal!
Click here to shop @ Lowes.ca now
Coupon Code: FLASH200
Discount: $200 off the KitchenAid mixer
Expiry: 6th May 2015 @ 3pm
While moms love flowers and chocolate, they also love kitchen equipment. I have been pining over the gorgeous KitchenAid mixers for years and now might be the time with a price tag under $200. This model is the Empire Red, which works out perfectly since that is the colour of my KitchenAid food processor. What I love about that colour is that it is just so vibrant and really makes the small appliance a show piece in the kitchen. This is especially true in a neutral kitchen, which is what I have.
Your 4.5 quart stainless steel bowl is large enough to mix up quite a bit of goods. It can fit dough for six dozen cookies (get ready for those bake sales!), three loaves of bread and six pounds of mashed potatoes (great for Sunday dinners). Of course, I wouldn't mix them all in there together ;)
There are ten speeds so you really can mix anything with this mixer - wet or dry. You can even shred cheese with the proper attachment.
Here is an outstanding review from the Lowe's site:
This product has truly changed my life I fell in love with it, it is capable of doing so many jobs, and saves time!
Just to give you a little price comparison - Amazon sells this for $279.99. I do see that this mixer has been sale at other stores for $229 at Walmart and at Amazon and both times that was also a great deal, but this Lowe's deal has those beat again. I really don't think it will go lower than this price in the future though, so don't wait and hope.
This item will also ship for free, as the total reaches the minimum of $49 for free shipping.