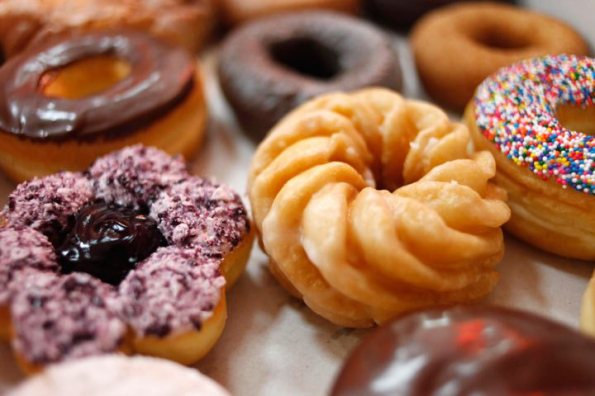 Interac Flash. You probably already use it! But now you can get a coupon for a free doughnut when you use Interac Flash at your local Tim Hortons. What's better than a free doughnut, seriously? Especially now that Tim Hortons has such a wide variety of flavours and types of doughnuts available. You will receive a coupon for a free doughnut with any purchase when you pay with Interac Flash, but this promotion won't last long so get in and get 'er done. Available at participating restaurants only.
What is your favourite Doughnut from Tim Hortons? There are so many to choose from, and they are constantly bringing out new varieties for Canadians to try. I was obsessed with the new Apple Pie Apple Fritter while it was available. Oh my gosh, that thing was dangerously delicious. I could have easily put on a bunch of "Holiday weight" by enjoying one of those daily with my coffee. Thank goodness they were only here for a limited time! Now, could you imagine getting it for free? Everything tastes better when it is free. Which is why you should use Interac Flash to pay next time you're at Tim Hortons. So that you get a coupon for a free doughnut of your choice during your next visit. No minimum purchase is required, even when redeeming your coupon.
Don't lose that coupon though! There are only so many available and you need the coupon to get your freebie when you want it. Last time Tim Hortons had an offer like this I was able to use the coupon right away, just pretending that it was my "next visit", but I am sure this will all depend on the location and how the cashier or manager feels that day. Either way, as Canadians I am sure we frequent Tim Hortons enough to make use of the coupon during our next coffee run. Which doughnut will you choose?
While you are at Tim Hortons getting your coupon for a free doughnut, why not grab a poppy for Remembrance Day as well? You can donate as much or as little as you like in exchange for the famous poppy pin. Wear it proud once you get it :) The poppies are available until November 11th, 2015 of course.
(Expiry: 17th November 2015)