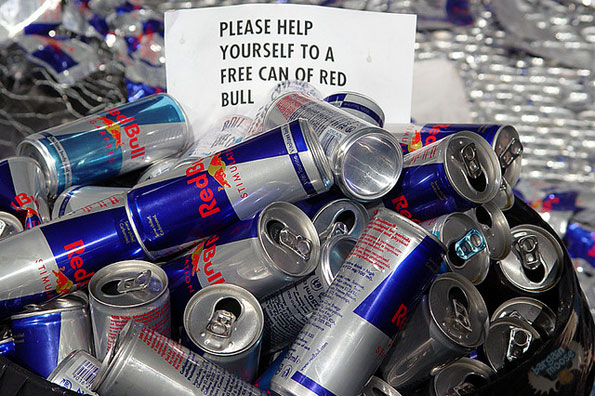 Lawsuits are filed over all sorts of silly things. Did you know that just recently, Red Bull lost a lawsuit made against them for false advertising? You see... some people actually filed a lawsuit against them because Red Bull doesn't physically give you wings. Despite all of that, Red Bull is offering Canucks a gift card for a free can of their tasty and energetic drink.
First of all, this freebie is only available for residents of the following provinces: British Columbia, Alberta, Saskatchewan, Manitoba, Ontario and Quebec.
Second of all, it is a freebie as there is no purchase required, but you do need to work for it ever so slightly. You will be asked to find the 3 hidden special edition cans of Red Bull. A red, blue and silver one are all hidden on the page once you click on the link above.
It appears that the location of the cans is randomized but this is where I found mine: the man on the horse in the middle of the page is holding the red can, the volleyball player at the bottom of the page is holding the silver can and the snowboarder in the top left corner of the page is holding the blue can.
You can also check out these other spots as this is where Avigayil found hers: the man hang gliding in middle at the bottom for the red one, the man on the blue tractor in the middle for the blue one and the man skating at the top right side of the page for the silver one.
Once you have found all 3 cans on the page, you will be asked to enter your name and address. Plus, you will also need to connect to Facebook but it only takes a second to do so. A gift card for a free can of Red Bull will then be mailed to you but it might take a couple of weeks for it to arrive. The gift card can only be redeemed at a Mac's convenience store or Couche-Tard store.
Only 7500 cans are being given away and I suggest that all of you Moosers hurry your bums to find the hidden cans because the timer will surely reach "0" on their site in no time. I refreshed the page after 5 minutes and the number of gift cards available went down by 25. So definitely do not wait!
How often do you Moosers drink Red Bull? I haven't had any in a while but my hubby drinks it on a weekly basis before playing hockey. It definitely appears to give him wings as he typically scores a couple of times! ;)
(Image Credit: Damien du Toit)
(Expiry: Soon)