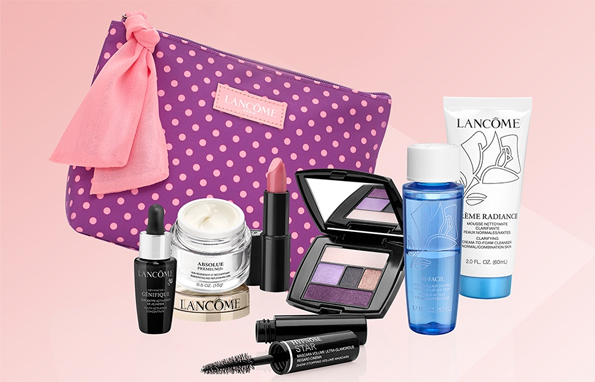 Here's one for the beauty lovers. If you spend $36 or more on Lancome products online at Hudson's Bay, you can choose a free gift worth up to $180 in value! This is one of the deals in the current huge Bay Days sale that they're having on site.
Is Lancome your brand of choice? If it is, then this is a perfect time to stock up on some essentials in your make-up kit. Or, you could buy some Christmas pressies and keep the free gift for yourself!!
This gift is customisable, which is quite rare to see. Usually you just get stuck with set items, but in this case, you can choose select ranges. As you can see in the image above, there is quite a variety!
In my shopping cart, I am testing this deal out by adding this LANCÔME Bienfait Multi Vital Teinte SPF 30 for $59.50. There were a TON of freebies thrown in there too!
Items you can choose from:
One of:
Gris Fatale
Mint Jolie
Juicy Tube Tickled Pink
Lavender Grace
Three of:
Always Red 1.5ml Eau De Toilette Sample
Estee Lauder Modern Muse Chic Eau de Parfum
Polo Red Eau de Toilette Spray Sample
Rénergie Cream Sample
Marc Jacobs Daisy Dream 1.2ml
Brit Rhythm for Her Eau de Toilette 2ml Sample
Brit Rhythm for Him Mini Spray Eau de Toilette Sample
Gloss Volupte Sampling Card
Forever Youth Liberator Sample
Hanae Mori Hanae Vial on Card
BB Milk Lait Corporel Sample
Superstart Skin Renewal Booster Sample
One of:
Creme Radiance Cleanser
Creme Mousse Confort Cleanser
One of:
Three-Piece Mascara and Makeup Remover (purple)
Three-Piece Mascara and Makeup Remover (pink)
Spend $75+ for an extra $10 off
If you make your beauty order to be $75 or more, use the coupon code C3BEA09 for an extra $10 discount!
Spend $95+ for MORE Freebies
And if you're feeling like spending even more, if you top your order up to $95 or more of Lancome items, you can then choose from 3 collections:
They don't state a value on these collections, but they look like good additions!
What About Shipping? It can be free
If you have a Hudson's Bay credit card – you're in luck. Beauty orders placed via that credit card and totalling $29 or more get free shipping! Regular beauty orders should total $49 or more before they qualify for free shipping to your home. Even so, $49 isn't a huge amount to spend, to make your order up to that level just to get the free shipping and save you $
(Expires: while quantities last)