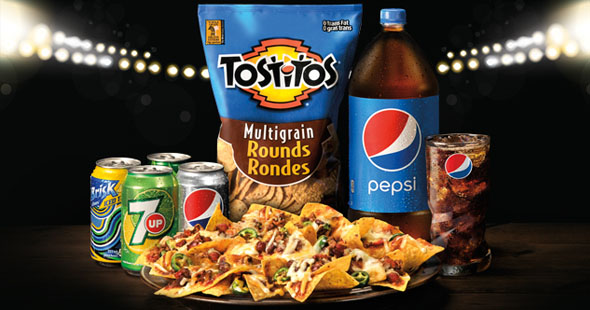 Another wonderful Mooser, Sue, has alerted us to a great deal that will seriously cut the cost of your Super Bowl party this weekend (or just a snack stock-up!). When you purchase $20 of PepsiCo products before February 14 and submit a photo of your receipt online, you'll receive a booklet of free product coupons worth $20!
PepsiCo certainly doesn't just make Pepsi and a number of their products are eligible for this rebate including any size or variety of the following:
Lay's potato chips
Doritos tortilla chips
Tostitos tortilla chips & salsas
Ruffles potato chips & dips
Munchies Snack Mix
Smartfood popcorn
Rold Gold pretzels
Cheetos cheese flavoured snacks & Chester's corn twists
Crispy Minis rice chips/rice cakes
Pepsi, 7UP, Mountain Dew, Mug, Schweppes, Crush & Dr Pepper soft drinks
Brisk beverages
Gatorade and G2 products.
Our Mooser had this to say,
I've done this for the past few years – the coupons really do arrive, and they really are for $20 worth of absolutely free food... And you don't have to buy $20 of junk food – everywhere this week has Tostitos tortilla chips for $2.50/bag (I stocked up with salsa!) or you can buy rice cakes, etc.
So stock that snack cupboard or furnish your party on Sunday with PepsiCo products! Be sure to submit your request by February 17! Coupon booklets will be mailed out 4-6 following the February 17th verification. All instructions for submission and Terms & Conditions can be found here.
Thanks Sue!
(Expires: 17th February 2016)