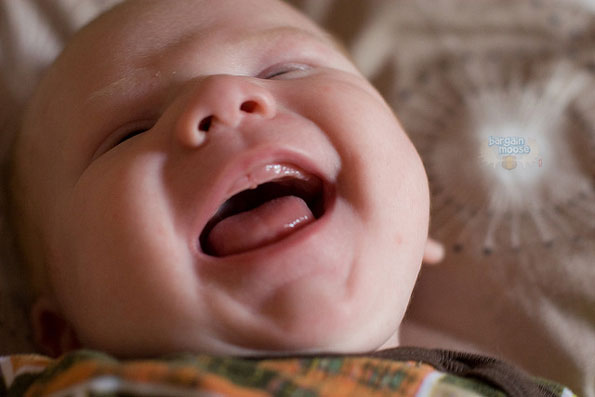 Baby, baby, baby oooh... grab some cheap baby clothes right now at Walmart but sizes are limited and are going fast. Select George onesies, pants and shirts are on clearance for just $2, from a regular price of $4 or more. As always, shipping is absolutely free.
My baby girl is growing so fast... *cries*. It's great and it's not but with regards to the latter, it's not so great when her clothing suddenly stopping fitting her. I'm not a fan of overpaying for clothes, so clearances like these are just what I look for.
A bit of virtual digging is required for this clearance offer because sizes are limited but here's an overview of the clothes that I picked up for my little girl: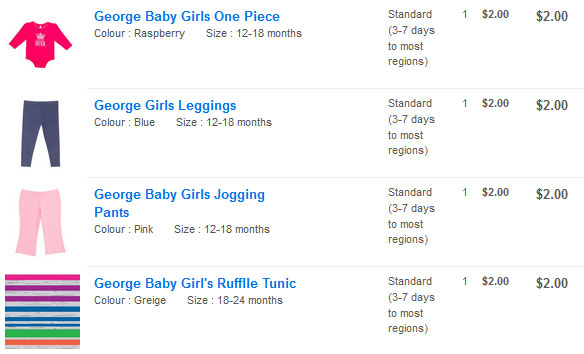 I got the George Little Diva onesie, blue leggings, pink jogging pants and the greige ruffle runic -- all for a grand total of $8 before tax. These purchases would have otherwise cost me $16 and even more with tax if they had been regularly-priced.
If your baby is under a year old or perhaps not even born yet, I suggest that you think ahead and maybe get a couple of sizes for them to grown into. Keep in mind the changing weather though as your little one wouldn't necessarily need a long-sleeved top during the summer months. Plus, don't forget that most babies need much bigger pants for their age as these tend to be on the shorter side.
For those of you with little boys, hurry up and get the "Girls Dig Me" shirt as it's just too cute! It's only available for sizes of up to 6 months and is also just $2!
Having to spend a set amount of money just to qualify for free shipping at most stores isn't something I particularly enjoy and end up not buying anything anyways, so, the best part about clearances like these at Walmart is definitely the free shipping offer. You could pick up just one pair of pants or just one onesie for $2 and still have it shipped straight to your door at no extra cost.
(Image Credit: Tomas Hellberg)
(Expiry: Unknown)