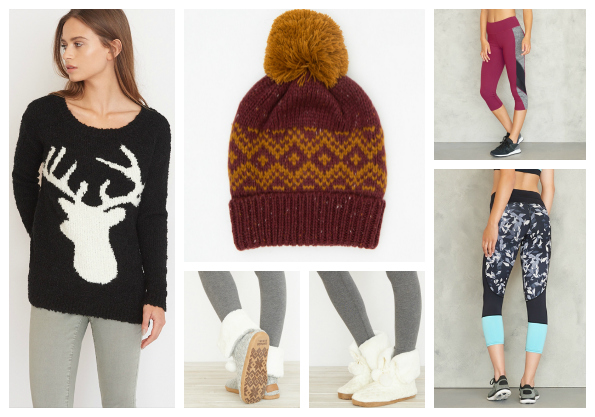 Garage Clothing Canada is offering up to 70% off select items for Boxing Week. You will also receive free shipping with no minimum required on your order.
I will feature a few of the items that caught my eye in the sale and you can check out the rest of the sale items for yourself. The accessories section has a lot of promise. I like these Over the Knee Solid Socks on sale from $14.95 down to $5. Leg warmers are high on my list of winter-approved accessories. The Leg Warmers are on sale from $16.95 down to $5. These Cable Leg Warmersare one of the best deals as they were $19.95 and are now only $5. The accessories may just be my favourite section with deals like this: purchase a Fur Pompon Beanie for just $5, originally $16.95.
The All Season Parka (navy) and the The All Season Parka (black) caught my eye as they are nearly $100 off. Originally $159.95, this coat is on sale for $65. Only a couple of the smallest sizes are still in stock.
There are also some fun Christmas leftovers. I think this Instant Ugly Sweater would be a fun stocking stuffer for next year. Originally $9.95, the kit is on sale for $4. Instead of buying an ugly sweater, you can turn any sweater you already own into an Ugly Christmas Sweater.
There are a bunch of activewear bottoms for only $10, which is perfect for getting fit in the New Year. These Activewear Collection- Athletic Capriwere $34.95 and are now $10. Likewise, the Activewear Collection- Athletic Legging Capriwas $32.95 and is now $10. I am tempted to buy a pair as I am down to one pair of activewear bottoms right now.
My first purchase this Boxing Day weekend was a pair of slippers because my feet are freezing. These Knit & Plush Slipper Booties in greyand inwhite are adorable and I might even like them more than the pair I purchased. Originally $29.95, they are on sale for $10.
The sweater section may be the holy grail of this entire sale. This Reindeer Sweaterwas $49.95 and is now only $15. This Jacquard Sweaterand this Jacquard Crewneck Sweater were also $49.95 each and are now down to $15 each. These are the best discounts in the sweater section though there are a few others for that $15 mark, but their original price was lower.
(Expiry: Unknown)