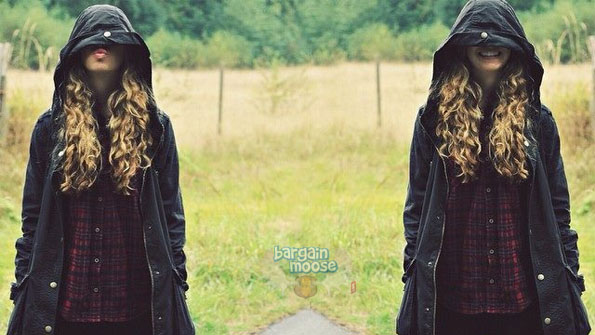 Starting the Thanksgiving week-end with a bang and slightly on the early side is Garage with a 30% discount on everything. Plus, shipping is usually only free on orders over $50 but during the course of this promotion, your order will also qualify for absolutely free shipping with no required minimum purchase.
I have to admit that I'm guilty of seeing Garage as just a brand of clothing for teenagers and while it's certainly targeted towards a younger demographic, a lot of their clothes can be worn universally by almost any age group. The burnout v-neck tee, for instance, is one of those extremely universal pieces as it looks super comfy. It's a very simple v-neck but what I love about it is that instead of sporting an outrageous price tag as it would in most other clothing stores, you can get it for an additional 30% off and pay just $5.60 instead of its sale price of $8 (reg. $14). It's available in either a plum, princess blue or blue radiance colours.
Looking for a comfy sweater to wear this fall? Check out the shaker stitch slouchy sweater. Since it's on sale for $20 (reg. $39.90), you can get it for just $14 and it comes in a black and white combo. This sweater definitely feeds into my comfy sweater addiction. I hate sweaters or clothing in general that is too tight, except for jeans and one of my favourite fall looks is an oversized sweater with a pair of skinny jeans and boots.
Speaking of sweaters, I also really quite like the funnel neck hoodie. It's very similar to a regular hoodie but the neck part is more unique-looking. Check it out for yourself, especially since you can get it for just $20.30 instead of $29 (reg. $36.90).
Boyfriend clothing has been in for a while now but if you don't have a man in your life to steal clothes from, then you might as well get your own! The medium blue boyfriend denim shirtwould look great with a pair of leggings and even more so because you can get it for just $20.30 instead of its sale price of $29 (reg. $39.90). Personally, I would totally wear this button down shirt when out with my baby because it would simplify breastfeeding her but the button down like the bleach marble shirt could easily be worn as part of an evening look as well.
These are just some of my favourite picks but there are plenty more to choose from, especially since the 30% discount is site wide with the exception of plaid shirts and select outerwear. The eligible items will have "30% off" written underneath the picture and the discount will be applied at checkout.
(Expiry: 13th October 2014)