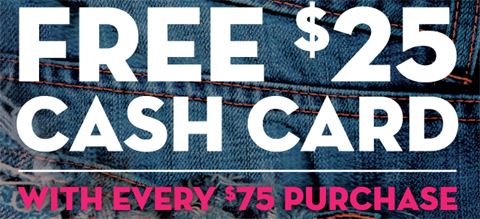 Starting on Monday the 2nd of August 2010, if you spend a total of $75 or more on clothing in-store at Garage Canada, they will reward you with a free $25 cash card!
The free $25 cash card can then be redeemed on a future purchase - specifically on a further $50 spend between the 13th of September and the 31st of October 2010.
So if I try and use my rusty mathematical skills on this deal, it kind of means you need to spend a total of $100 to get $125 worth of clothing (not too bad).
While this isn't a spectacularly hot offer, if you are a fan of Garage clothing and buy items in there regularly, then it would be a good deal for you to take advantage of.