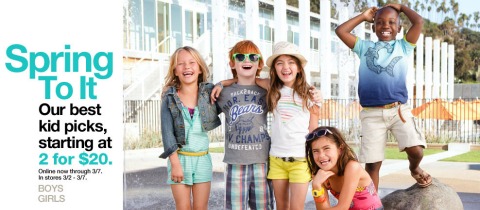 Shop the Gap's Spring Kid Picks, online through 7 March 2011. Spring clothes for kids on sale starting as low as 2 for $20! There is also a 2 day online only sale where kids and baby clearance items are an extra 20% off (3-4 March).
Discount: Extra 20% off kids and baby clearance
Coupon Code: GAPSAVEKB
Expires: 4 March 2011
Boys Graphic Tees, like this Raglan Guitar Print Graphic Tee, are regular $16.50. If you buy 2 or more, they'll be discounted to $10 each.
For Baby Girls, this Bubble Dress for $22.50 would be cute on it's own in the warmer weather or would pair nicely with some leggings. Buy 2 or more and get them for $15 each. I love these Patterned Ruched Leggings, regular $14.50. Buy 2 or more and they'll come down to $10 each.
What's great is that this seems to be a mix and match sale, so you don't have to buy 2 of the same item to get the discount. When I put one Bubble Dress and one Patterned Ruched Leggings in my shopping cart, the discount automatically came off both items!
This Spring Picks sale is also in stores from 2 March - 7 March 2011.
Make sure you check out the clearance items for kids and baby! An extra 20% makes those clearnace deals even sweeter!