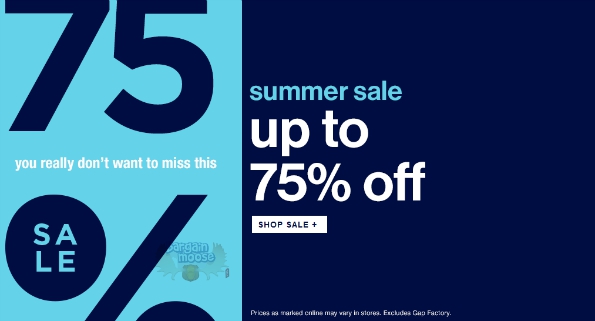 Enjoy this double deal at Gap Canada today only. Shop their up to 75% off sale section and then use the following coupon code for an extra $45 off orders of $100 or more.
Click here to shop @ The Gap Canada now
Coupon Code: GAPFUNDAY
Discount: $45 off $100
Expiry: 20th July 2015
This deal is smoking hot because the coupon for $45 off $100 combines with the sale section and then you also receive free shipping on orders of $50 or more, which means you will be saving hundreds of dollars when all of this combines together! Here are some of the deals I added to my cart.
These Boyfriend roll-up khaki shorts in chino academy are on sale from $49.95 down to $11.99. They are the perfect every-day short for running errands, going on a little hike, and doing a little gardening. I added two to my cart.
This cami dress is on sale from $54.95 down to $24.99. While it is not one of the steepest discounts in the sale, it is still over 50% off and three of the colours are discounted this low. Choose from true black, heather grey, and union blue.
Over in skirts, I found this Pleated scuba skirt on sale from $59.95 down to $16.99 for the pale heather grey version. They still had my size available, thus into the cart it went as well.
I was lucky to find this Modern stripe V-neck tee - navy stripe - still in stock. Originally $22.95, the shirt is a steal at only $6.99. It is a great option if your cart is getting near the $100 mark and you need something to push it over.
Lastly, I added in the Oversized swing sweater that was $64.95 and is now $16.99. This shirt fits loosely so there are only two sizes to choose from. Both are in stock. Lastly, I added this Shimmer Sweater that was $64.95 and is now $12.99.
With this in my cart, I used the above coupon code to save an extra $45. Let me actually add up the savings for you.
For two pairs of shorts, one dress, one skirt, one shirt, and two sweaters - my total came to $57.93 plus tax. The original value of all that clothing is $367.65!
I seriously cannot think of a deal hotter than that right now. You seriously need to go raid The Gap sale section RIGHT NOW and score an impressive haul of clothing for just peanuts. Do it now as this deal is for today only.
Note: some exclusions apply. See website for details.