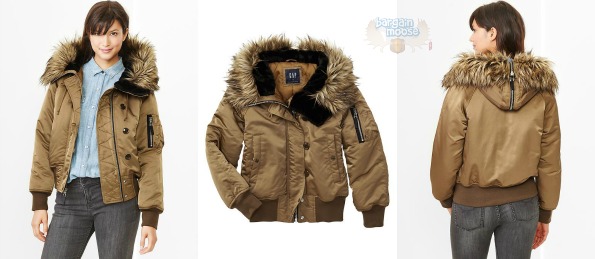 Gap Canada has many great deals in the sale section that you can combine with the current 40% off coupon code. I picked out this Fur-trim Snorkel Puffer in brown that was $158 and is now on sale for $54.99. After you apply the coupon codeCASALE - the jacket comes down to $32.99.
Gap Canada calculates free shipping (minimum $50) before coupon code. As this jacket cost $54.99 before coupon, it still qualifies for free shipping when it comes down to $32.99.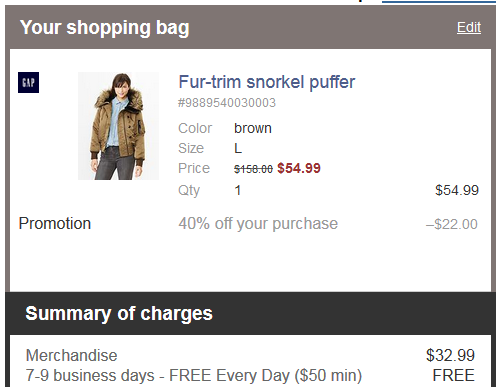 This price is only applicable to the brown colourway as the olive is far more expensive. Happily, the brown puffer has the greatest size selection currently. Sizes extra-small, small, medium, large, and extra-large are still available.
The jacket is made of water-resistant fabric with a rib-knit trim. There are long raglan sleeves with a zip pocket on one side. The faux fur trim on the hid with a funky zip back is pretty unique. The collar also has a furry liner for comfort. Overall, the jacket has a fairly straight profile and hits about hip length on an average size frame.
The reviews are positive on this jacket (for the most part). We are looking at an average of a 4.3/5 star rating with nearly 80 reviews. One reviewer said:
I bought this Jacket for when the fall and spring. I was happily surprised to find that the jacket kept me warm when the wind chill caused the temperatures to dip to winter weather!
Another reviewer said:
This was a gift to my 18 year old daughter! It fits her well and she loves it! It's warm & stylish! She won't put it down!
I agree that it is stylish and it would make a great jacket for a teenager as well as someone a bit older. My favourite part is the zip down the back of the hood. I am not sure if it is practical at all, but it looks awesome. I usually hate brown, but this jacket looks pretty good and the faux fur around the head complements the colour perfectly.
Depending on your size, there are a few other jackets you can get for a great price. Many vests and jackets have been discounted by 50% or more. When combined with the 40% off coupon code, you can score an amazing deal.
(Coupon expiry: 16th March 2015)