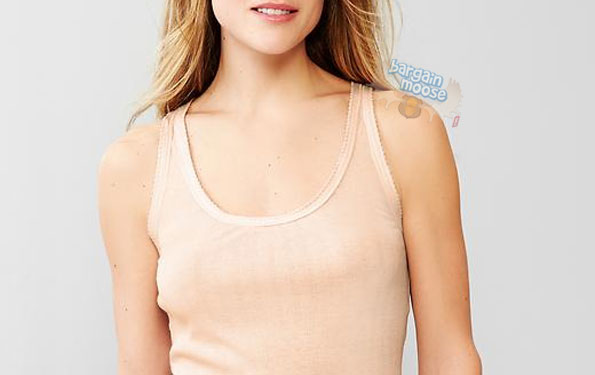 Looking around the Gap's sale section, I happened to stumble on the pointelle racerback tank. Originally priced at $22.95, the sheer pink and pink heart colour options are currently down to just $8.99 and the best part is that you can use the Gap coupon codeGAPFAMCA to save an additional 40% and bring it down even more to just $5.39! Keep in mind that this code may only be used until August 11th.
Out of the original price, the pointelle racerback tank actually comes down to a total of 77% off, which is pretty awesome! While the sheer pink colour is available in every size, the pink heart one can only be had in either small or medium sizes.
If neither sheer pink nor pink heart aren't your cup of tea in terms of colour, then you could also get this tank in four other colours but for slightly more expensive. The union blue, green heather, cornflower or white versions of the pointelle racerbank tank are currently on sale for $11.99 (reg. $22.95), which means that they come down to just $5.99 with the coupon code. For those of you who aren't fans of sheer clothing, these other colours could actually suit you better (except for the white), as one reviewer commented that the light colours were were cute but sheer enough to show her belly button when worn.
Here's what another reviewer had to say about it:
This tank is comfy and doesn't stretch too much. I bought the blue and the rose color, and they're both as pictured. It's a nice tank for sleeping in.
In all, the pointelle racerbak tank has a total rating of 3.3/5 stars out of 7 reviews.
Shipping is only free on orders over $50, so you would need to either reach this minimum threshold or pay the $8 shipping fee. Personally, I would totally just stock up on various colours of this tank to reach the $50 minimum spend and potentially use this tank as sleepwear given that some of it is sheer. I could also see it looking great under a blazer or any other kind of sweater.
(Expiry: Unknown)