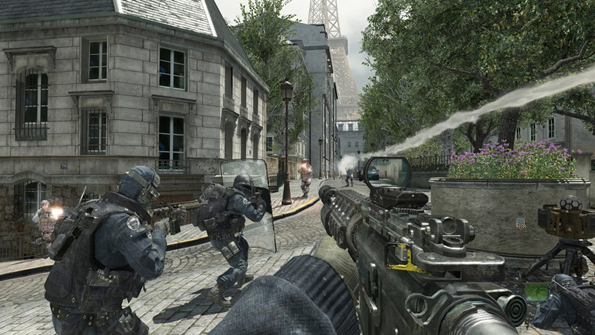 Looking for another Call Of Duty game to sink your teeth into? Today's deal of the day at Game Access is for a used copy of Call Of Duty: Modern Warfare 3 for the Xbox 360, which you can purchase for $7.72 (plus $3 shipping). The regular price of Call Of Duty: Modern Warfare 3 for the Xbox 360 is $29.99, so this is a pretty sweet deal! Just click on the link below to learn more about this deal.
Online multiplayer is one of the most popular features in Call Of Duty games. These games are incredibly popular nowadays, and they had their roots on the PC and eventually ended up on consoles like the Playstation 2, Xbox, and Gamecube systems more than a decade ago. It's crazy to think that there are currently 13 instalments in this familiar series of video games.
Finding an affordable Xbox 360 game isn't too hard to do nowadays, especially when many retail locations are having some great sales on them on a regular basis. After all, the newer generation consoles like the PS4, Xbox One, and Nintendo Wii U are getting most of the glory nowadays, but gamers still love their PS3 and Xbox 360 systems - especially since the PS4 and Xbox One currently aren't backwards compatible and won't play these older games (the Wii U plays original Wii games, thankfully).
This is a pretty great deal! You just can't go wrong for $7.72 (plus $3 shipping). If you were to purchase Call Of Duty: Modern Warfare 3 for the Xbox 360 at Best Buy or Future Shop, it would cost you $29.99. I've included a snippet of a review of this game from a satisfied Best Buy customer below:
I could never put this game down. The campaign was amazing and the special ops gave you something to do once the campaign finished. Special ops has waves of troops in each map with different difficulties and extra side missions. Multiplayer offers you even more as you rank up, giving you prestige modes. 
I hope you all enjoy your Thanksgiving Monday, my fellow Bargainmoosers!
(Expiry: Unknown)