Over the next 10 days, FutureShop Canada is having a "days of web deals" event. Every day, a few items will be featured. Hopefully they are hot bargains! I'll try and update this post on a daily basis to keep you informed about the daily deals.
Day 10: May 17th, 2009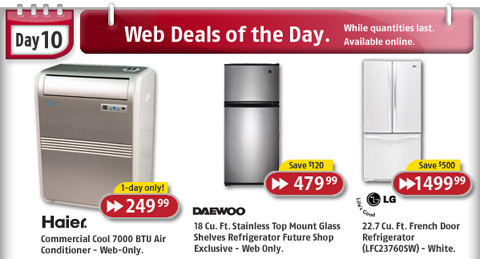 LG 22.7 Cu. Ft. French Door Refrigerator (LFC23760SW) - White $1499.99 - Great big fridge freezer here - loads of storage space for all that fresh veg from your recession garden!
Daewoo 18 Cu. Ft. Stainless Top Mount Glass Shelves Refrigerator - Future Shop Exclusive - Web Only $479.99 - Nice fridge freezer, witha silver finish for the more modern kitchens.
Commercial Cool 7000 BTU Portable Air Conditioner (CPRB07XC7) - Web Only $249.99 - It's getting hotter! This is a decent price on an air conditioner.
Whirlpool Duet 4.0 Front-Load washer and 7.0 Cu. Ft. Dryer $1499.98 - OK price here for the pair... seems to be similar to what I have seen elsewhere.
LG Tall Tub Energy Star Stainless Tub & Food Disposer & 6 Wash Cycles Dishwasher (LDS5811WW) - White $749.99 - online a few available of this one, it's a special delivery item.
Dyson Handheld Vacuum (DC16 Root 6) $129.99 - I think this would be mega handy for picking up all those little bits and pieces on the floor, when you don't want to get out the big vacuum cleaner. Additionally, I think it would be very handy in the car.
KitchenAid Stand Blender (KSB580NK) $129.99 - These blenders are great for making lovely fresh fruit smoothies!
Day 9: May 16th, 2009
Samsung 40" 1080p 120Hz Flat-Panel LCD HDTV (LN40A750) - Future Shop Exclusive $1499.99 - Samsung are supposed to make good panels for LCD tv. This is a full 1080p TV, so would be a good resolution.
Sony Handycam High Definition Flash Camcorder (HDRTG1) - Web Only $649.99 - need a new camcorder for the summer? Could be an option.
Polk Audio Home Entertainment Speaker System (RM20-5) - $499.99 - quite a high quality home entertainment system there!
Samsung 46" 1080p 120Hz LCD HDTV (LN46A750) - Future Shop Exclusive $1899.99 - HUGE TV!
LG 37" 1080p 120Hz LCD HDTV (37LH40) $899- I think that's an great price for a little 37" television!
Day 8: May 15th, 2009
Some deals for the audiophiles today!
Bose Acoustimass 6 Series III Home Entertainment Speaker System - Web Only - $499.99
Energy 3-Way Tower Speaker (RC-50BK) - Single - $349.99

Day 7: May 14th, 2009
Canon EOS Digital Rebel XS 10.1MP DSLR Camera With 18-55mm IS Lens Kit $529.99 - A nice digital SLR camera here.I'd love one of these, but the pennies are a bit tight at the mo!
Sanyo Xacti High Definition Flash Camcorder (VPC-TH1R) - Red - Web Only $199.99 - Nice little handy camcorder, love the red finish!
CoreMicro 8GB SDHC Class 6 High-Speed Memory Card - Web Only $14.99 - Not a bad deal for a little memory card! I'd recommend you check your camera or other electronic device to make sure this is compatible, before you buy it.
Day 6: May 13th, 2009
Emachines 15.4" AMD Athlon 2650e 1.6GHz Laptop (EME620-5072) - $399.99 - decent price for a handy little laptop!
HP Firebird 802 Intel Core 2 Quad Q9400 2.66GHz Computer - English - Web Only - $1499.95 - pricey! Must be a very well-specced computer!
Kaspersky AntiVirus 2009 - $19.99 - Kaspersky on offer again, good if you need an anti-virus subscription. Additionally, there are Bullguard coupons for a free 60 day trial.
Crucial DDRII 667 2GB Laptop Memory - $29.99 - good if you need some extra RAM for your laptop! Just be sure it is compatible before you buy.
Init 15.4" Computer Messenger Bag (NT-NB929) - $19.99 - cute little laptop case, if you need one!

Day 5: May 12th, 2009
Sony VAIO Intel Dual Core E5200 2.5GHz Computer With 20.1" Monitor (VGCJS130BS) - Silver - $899.99
Samsung 23" Widescreen LCD Monitor With 5ms Response Time (2343BW) - $229.99 - Nice price for a nice piece of screen real estate.
Samsung 21.6" Widescreen LCD Monitor With 2ms Response Time (2253LW) - Black - $199.99- This seems to be a great price for a 21" monitor from Samsung! If you don't want to go quite as big as a 23", then this is the deal for you.
Belkin Wireless N Router (F5D8233TT4) - Web Only - $39.99 - I don't know much about wireless routers at all, so I don't have anything to say on these ones. Good prices?

Belkin Wireless G Router (F5D7230TT4-SN) - Bilingual - Web Only - $29.99
BFG GeForce 7300 GT 512MB PCI-Express Video Card - Web Only - $44.99
Microsoft Wireless Entertainment Desktop 8000 - Web Only - $199.99

Day 4: May 11th, 2009
XBOX 360 120GB Elite Console - Red - $369.99 - love the red console! I'm quite tempted to buy this one... I've been wanting an Xbox 360, but I also have a wii, and one person cannot relaly own 2 consoles, can they?!?
Nintendo Wii Console with Wii Fit Balance Board and EA Sports Active - $379.97 - pretty sweet deal for both the wii console, and the wii fit as well. Great fun!
Wii Fit Balance Board with Intec Rechargeable Battery Pack - $99.98 - if you already have the wii console, here's a deal on the wii fit alone. It'still quite hard to get these, so get in there fast. I love the wii fit, it's excellent.

Day 3: May 10th, 2009
TomTom 3.5" ONE 3rd Edition GPS Navigation System - Refurbished - $99.99 - quite a good price for a little GPS device. TomTom are a great brand for this kind of thing.
Garmin 5.2" Nuvi 5000 GPS Portable Navigation System With MP3 Capability - $399.99 - obvisouly more expensive than the above, but it has been discounted by $200 already. I quite like the idea of mp3 capability - means you have less devices to cart around with you.
Dynex "AA" 48-Pack Batteries - $9.99 - that's a loads of batteries! You'll never run out! I usually only buy rechargeables though, but sometimes it is handy to keep these in the house for emergencies.
Duracell Charger with 4 "AA" Batteries (CEF14DX4N) - Web Only - $14.99 - a good brand and a good device! Well worth the money to start investing in rechargeables!

Day 2: May 9th, 2009
Dell 15.4" Intel Pentium Dual Core T3400 Laptop (1537) - English - Future Shop Exclusive - $749.95 -pretty good little Dell laptop! 4GB ram, 250GB HD, 15.4" screen, nice spec for the money.

Altec Lansing Portable Laptop Speakers (XT2) - Web Only - $29.99 -Looks like a pretty decent little set of PC speakers for less than thirty bucks!

Kasperksy Internet Security 2009 (PC) - $29.99 - I actually bought this a while back and I have it running on 3 PCs. As with all Internet Security suites, it annoys my head sometimes, but it is pretty good on the whole.

Day 1: May 8th, 2009
LG 50" 1080p Plasma HDTV with XD Engine (50PS30) - $1099.99 – not a bad price for an absolutely HUGE TV! I have a 42" and I thought it was pretty big, but a 50" just takes the biscuit!
LG 37" 1080p 120Hz LCD HDTV (37LH40) - $899.99 – Slightly smaller this time, we only have a 37" LCD TV! It is a 1080p though, so good resolution for whatever you might want to be watching. You might be interested to read some customer reviews on Amazon.com. There are a few useful comments there.
Keep an eye on BargainMoose for updates!