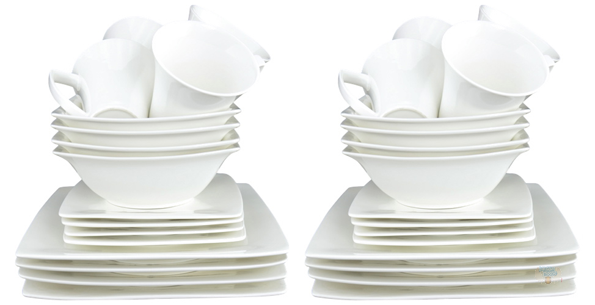 Looking to show off a new dinner set at Thanksgiving this year? Then you should consider checking out this deal for a nice dinner set at Future Shop. For a limited time, you can get a Tannex Du Lait 16-Piece Dinner Set for $59.99 - the regular price is $99.99. You'll also qualify for free shipping! This deal is set to expire on October the 9th, so I highly recommend that you click on the link below if you're interested in getting a new dinner set.
This Tannex Du Lait 16-Piece Dinner Set comes with the following:
4 25 cm dinner plates
4 21 cm salad plates
4 15 cm bowls
4 355 ml mugs
All pieces are made of white bone China, and are microwave, oven, and dishwasher safe.
As we use our plates, bowls, and mugs on a regular basis, it's easy for them to eventually wear out. Many brands out there have released products that can truly stand the test of time (I know that my Corelle dinner set still looks great after 12 years of use). However, sometimes things break - I tend to be a bit clumsy, so it's not a surprise to find broken plates or drinking glasses in my garbage on occasion. In other cases, you may be bored of having the same dinner set after so many years of use.
Since Thanksgiving is on the horizon, it may be a great time to invest in a new dinner set. After all, when you have your family gathered around the table, they may be impressed with the new plates, bowls, and mugs that they see. It will at least be something new for them to notice!
If you wanted to purchase this Tannex Du Lait 16-Piece Dinner Set on Amazon, it would cost you $165. You can learn more about the Tannex Canada brand and their other products by clicking here.
Check out this deal while it's still valid! I hope you're all enjoying your day so far, my fellow Bargainmoosers! Take care, and keep on hunting for those deals!
(Expiry: 9th October 2014)