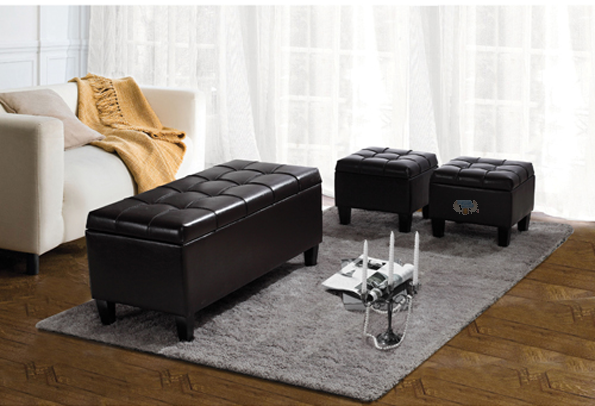 Are you looking to spruce up your place? If you're looking for some new furniture, today's Future Shop deal should be an appealing one for you! For one day only, you can get this Simpli Home Dover Storage Ottoman Set of 3 for just $129.99 - the regular price of this set is $229.99, so you'll be able to save $100 with today's deal! You'll also get free shipping with your order!
This Simpli Home Dover Storage Ottoman Set of 3 is elegant, stylish, and versatile enough for you to find a great spot that best accentuates their look. These Ottomans are a wonderful storage solution, and can be really convenient!
I have a soft spot for Ottomans. They usually help me keep things tidy and organized, which can be tough when you don't have too much room! This Simpli Home Dover Storage Ottoman Set of 3 looks like a nice set, and you can't go wrong for $129.99!
The two smaller Ottomans in this set are pretty cute in my opinion. My girlfriend and I currently have a large Ottoman that we keep a bunch of our movies in (along with some video game accessories), so it's really handy for us - especially since we're always running out of shelf space for movies! If we had the two smaller Ottomans that come with this Simpli Home Dover Set, I'm sure that we'd  put them to good use immediately! If there's one thing that we need, it's more storage space!
The Simpli Home Dover Storage Ottoman Set of 3 currently costs $229.99 at Best Buy , and it's $363 at Lowes. I've included a snippet of a review of this Ottoman set from a satisfied Amazon customer below:
This weekend we had a lot of company and had to use these for seating. I weigh over 200 pounds and wound up sitting on both the small and larger ottomans and was very surprised with how solid they were. My dog got a little hyper and clawed one of the pieces, and the leather didn't show a mark, which was very surprising. I honestly think this is a really good deal.
These won't be in stock for very long, since limited quantities are available. Happy hunting, Bargainmoosers!
(Expiry: 7th October 2014)