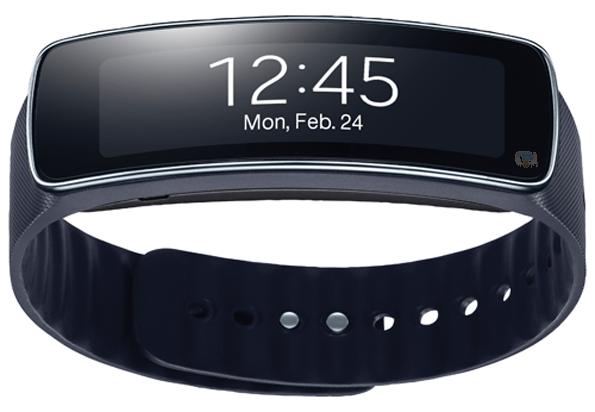 Good morning, my fellow Bargainmoosers! If you've been looking for a way to keep track of your fitness goals while you're on-the-move, then you should check out today's deal at Future Shop. Normally retailing for $149.99, you can now get a Samsung Gear Fit for $89.99! You're saving $60 in total, and this fitness tracker typically sells for $219.99 at The Source, and it's $115 (plus shipping) on Amazon. It's also currently sold out at Best Buy. Plus, when you purchase this Samsung Gear Fit at Future Shop, you'll also qualify for free shipping! Whaddadeal!
The Samsung Gear Fit can help you keep track of your steps when you wear this electronic fitness band. It features a heart rate sensor, accelerometer, and gyroscope, and you can also connect it to certain cell phones so you can also be notified about any calls or text messages that you're receiving. You can learn more about this device by clicking on the link above.
This isn't the first fitness tracker I've seen. My significant other owned a Fitbit, and really got a kick out of how it would keep track of her sleep patterns. She eventually sold it when we started using the Nintendo Fit Meter (it's really a very handy device! I just wanted to get something that would track my steps, and eventually she fell in love with how simplistic and efficient the device is). However, this Samsung Gear Fit is one sleek looking device! I would have no qualms with wearing one of these, since it looks pretty cool. And you know I take myself very seriously (cough..cough).
I've included a brief review of this Samsung Gear Fit from a satisfied Best Buy customer below:
I absolutely love this device. It allows me to see my notifications without having to have galaxy s4 right beside me at all times.It is also more accurate than the step counter on my phone.
Check out this deal before the Samsung Gear Fit is out of stock. Happy hunting, Bargainmoosers!
(Expiry: 30th October 2014)