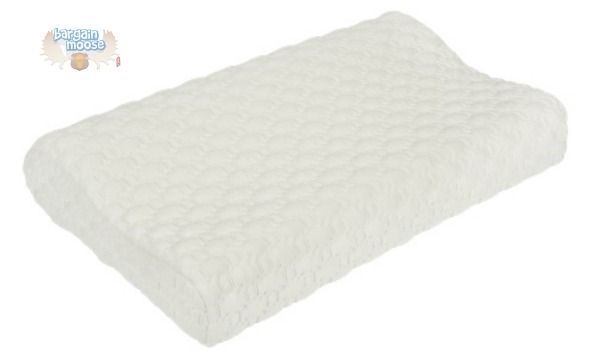 Today only, Future Shop has a hot deal on a cool pillow. Get the ObusForme Comfort Sleep contoured pillow in white for only $34.99, which saves you $55!
If there is one thing that makes a good sleep - it is a pillow. It isn't the bed or the bedding or even the room, it is the pillow. I really never understood why hotels spend so much money have these luxurious duvets, sleep number beds and beautiful rooms but then the pillows are complete crap! They are usually rock hard or just so soft you sink right into it and get suffocated by the pillow surrounding your face. I always take my pillow when I travel locally, but on my recent trip away there was no room for it in my bag, so I had to make due with the horrible pillows in my fabulous hotels.
This contoured pillow looks like a winner, at a good price. It supports the curvature of your neck and has a soft breathable cover. This means this pillow is ergonomic for those who might have neck or shoulder troubles. It could also be great to prevent these problems too. I know my mother-in-law has a pillow like this and swears by them.
The ratings vary, but most are 5-star. Reviewers like the firmness of the pillow and the high-quality material. The one complaint was that it can be too hard if you aren't used to a firm pillow and that the contour might be too high. You might just need to try it out and for such a low price, it isn't a big deal if it ends up a guest pillow.
Shipping for this pillow will be free as the price is over $20.
(Expiry: 7th May 2014)