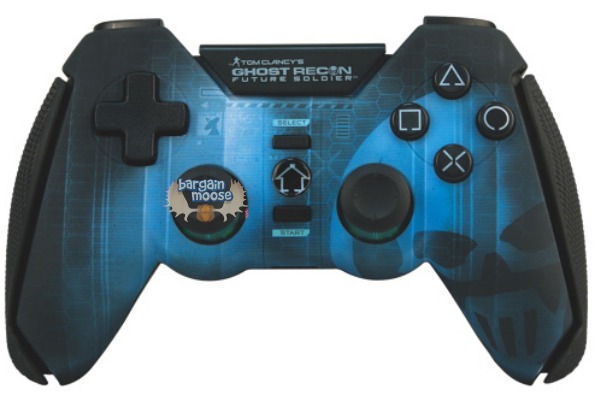 Future Shop Canada has a great Canada Day Sale happening with some pretty incredible deals. One of the better deals I found was for a Playstation accessory. They have the Madcatz Ghost Recon wireless gamepad for PlayStation 3 on sale for just $5.97!
This model gets a 3.7 star rating out of 5 which is pretty good.  It comes with a rechargeable battery and features a quick-fire trigger, and backlit stick modules. The precision aim gives you sniper like accuracy when looking down the scope.  It is a great wireless gamepad for any gamer.
There were some great customer reviews for it and they are as recent as June 2014.
I'm a FPS player and this controller is perfect for sniping or ambushing 5/5 for me- Hugo Laperriere

This is the best thing for call of duty ghost players this well improve your gamer skills. sorry about spelling!!!! 5 stars.- NHLboss
Even though it got great reviews and I thought the price was excellent, it did not show the regular price it was sold for at Future Shop Canada. I wanted to do some price comparisons with this gamepad and I could only find the exact model at one place.  Over at Amazon Canada they had the same PS3 gamepad on sale for $39.99 and it was $64.99 at regular price.  Additionally, they only have one left in stock.
Other than that, they had some similar wireless gamepads at other stores that were good price comparisons. The only wireless gamepad that Walmart Canada had was priced at $59.93 and over at Staples Canada, the cheapest wireless gamepad was $48.21.  In fact, no store that I checked out even came close to the low Future Shop Canada price of $5.97.
When you spend $20 or more on almost everything, you will get free shipping at Future Shop.
(Expiry: 3rd July 2014)