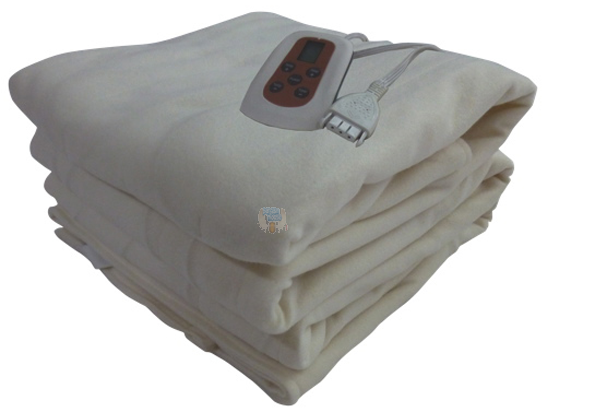 Today's deal of the day at Future Shop is for an interesting product that most people wouldn't expect to purchase from this electronics retailer. It's for a Luxe Decor Electric Blanket/Mattress Pad, which you can now purchase for $49.99 - the regular price of this item is normally $129.99, so you're saving $80 with this deal! You'll also qualify for free shipping.
The Luxe Decor Electric Blanket/Mattress Pad comes with a controller where you can choose from 8 different temperature settings that can help you get the rest that you need! It's made from 100% fleece, has overheat protection, and a timer that can last up to 8 hours. It's also 84" x 72", so you'll have plenty of coverage with this mattress pad.
If you usually struggle to stay warm at night, or find yourself battling your covers in the middle of the night, then you should consider checking out this deal. This Luxe Decor Electric Blanket/Mattress Pad can provide you with some extra comfort, especially since it comes with a digital controller that can help you easily adjust its temperature settings at any time.
I remember having an electric blanket when I was a young lad, and my mother would usually put it on me when I was feeling sick. It was so relaxing to have that electric blanket on me! Looking back, that was old technology (it was from the 80s), so I'm sure that this Luxe Decor Electric Blanket/Mattress Pad is much more efficient!
If you were to purchase this Luxe Decor Electric Blanket/Mattress Pad at Best Buy, it would cost you $129.99. I've listed a brief review of this electric mattress pad from a satisfied Future Shop customer below:
My wife loves this blanket and uses it every day...it has been a very cold winter so this blanket has been perfect to keep us warm.
This may not be in stock for very long, so check out this deal while it's still valid. I hope you all enjoy your Tuesday!
(Expiry: Unknown)