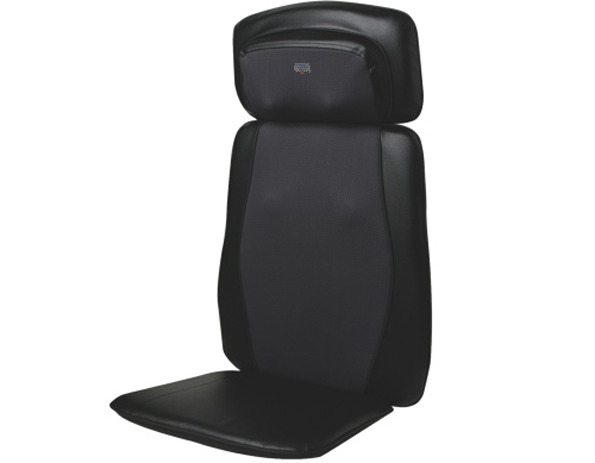 Good afternoon, my fellow deal hunters! Are you in need of a nice, soothing shiatsu massage? Well, today's deal at Future Shop is for a Homedics Massage Cushion - this normally retails for $159.99, but you can now purchase this product for $89.99! Plus, you'll also qualify for free shipping! Now that's a nice bonus.
The Homedics Massage Cushion has 3 massage programs (full, upper, and lower back), and it even has a heat function that can make you even more relaxed!
This massage chair looks pretty cozy! If you know of anyone that's dealing with back pains, or is constantly complaining about how uncomfortable their chair is (whether it's at their office or at home), then you should consider showing them this deal. If you really like this person that needs a comfortable solution for their aching pains, you can even surprise them with this during the holidays. It's a great gift for people that are hard to buy for during the holiday season!
If you wanted to buy this Homedics Massage Cushion from Best Buy, it would cost you $199.99. It's also $144.99 at Shop.ca. I've included a brief review of this massage chair from a satisfied Future Shop customer below:
I am quite a amazed at how well this product massages my back. It's just as good as lying on a table and having a back massage. The massage is quite deep as well. After reading some of the reviews, many do not realize that the shoulder massage part is expandable. Overall I give it 5 stars.
This looks like an intriguing item, so if you want to get a nice shiatsu massage, then you should consider picking this up from Future Shop. Happy hunting, my fellow Bargainmoosers!
(Expiry: 9th November 2014)