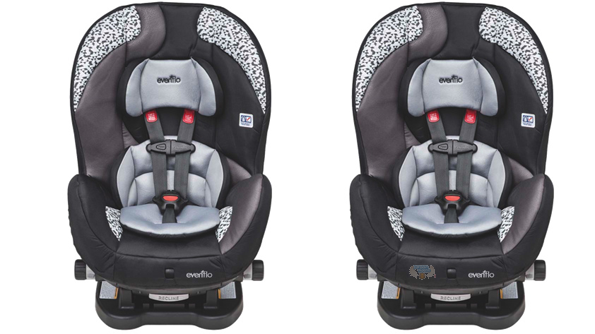 Good morning, Bargainmoosers! Future Shop is currently having an intriguing deal on their Evenflo Triumph LX Convertible Car Seat - it normally retails for $169.99, but you can get it today for just $99.99! With $70 off of the retail price, you just can't ignore this deal. You'll also qualify for free shipping!
The Evenflo Triumph LX Convertible Car Seat can accommodate children that weigh anywhere from 5 to 65 pounds. You can read more about the specific details of this car seat by clicking here.
If you know anyone that's planning to have a child, this would be a great gift for the holidays. It appears to have some great reviews online, and it does exactly what it's advertised to do: it helps keep children safe in a vehicle. It looks great, too.
If you were to purchase this Evenflo Triumph LX Convertible Car Seat at Sears, it would cost you $144.49, and it retails for $169.99 at Toys R Us. I found a review from a satisfied Sears customer that I think you should all read - I've included it below:
I bought this car seat about a year ago. I was recently in a terrible accident with my son. We were hit from the side by a tractor trailer. He was able to walk away from the accident with not even a seat belt bruise. After the crash we checked the car and the seat didnt move one bit. The seat belt has always been easy to use and after this accident I know it does that job. I am buying the same one.
This sale ends today, so check this out while you still can. I hope you all enjoy your Thursday!
(Expiry: 2nd October 2014)