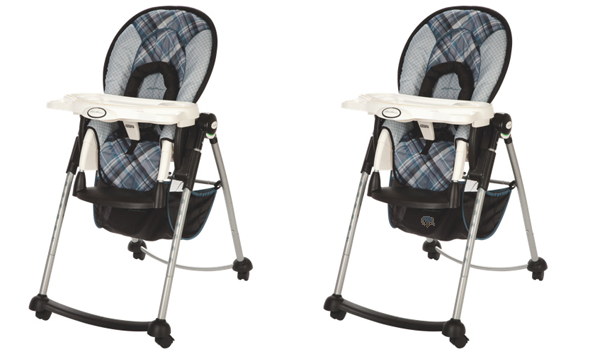 Future Shop is at it again! They have a great deal of the day available today for an Eddie Bauer Deluxe High Chair - it normally costs $169.99, but you can now get it for $99.99! You'll also qualify for free shipping. This is an appealing deal for those that want to provide their baby with a high quality high chair, since you're saving $70 off the retail price. This deal will expire before midnight tonight, so check it out while it's still valid.
With this classy high chair, your baby will know how to style and profile in no time! The Eddie Bauer Deluxe High Chair has 7 adjustable levels, and has a multitude of different features:
Recommended for children from 5 to 36 months (up to 50 pounds)
Folds flat for easy storage
One hand front tray release
Has an integrated snack tray
The seat pad is machine washable, and the insert tray is dishwasher-safe
Infant head support is easily removable
Has a large storage basket
This chair is mobile thanks to its locking castors
The Eddie Bauer brand is one that has high affinity with many shoppers. I didn't even realize that they had deluxe high chairs available, since I'm more familiar with their apparel. Either way, this is one heck of a deal. After all, it normally sells for $169.99 at Best Buy, and Sears has a similar model that's also $169.99.
I've included a brief review of this Eddie Bauer Deluxe High Chair from a satisfied Best Buy customer below:
Nice soft (and washable) seat, tray slides in and out smoothly, and easy to adjust height and recline. Lost a star because the harness seems to be too big for my baby. Will need to investigate if there is a fix for that. Overall a very nice chair!
This deal will expire before midnight tonight. Limited quantities are available, so it may not even be in stock for very long. Either way, if you need a high chair for your baby, check out this deal at Future Shop. Happy hunting, Bargainmoosers!
(Expiry: 15th October 2014)