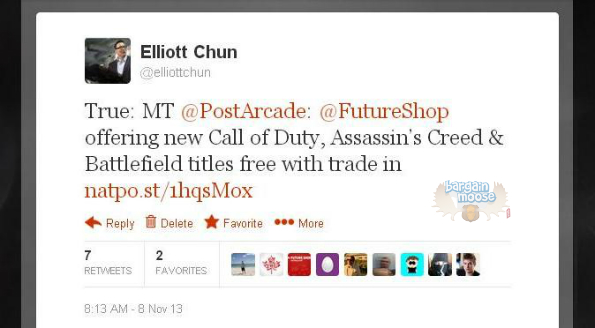 Hold on to your butts, people, FutureShop is putting on a big one! This is straight up free video games just for trading in any PS3, xBox 360 or Wii U game. This deal is in-store only.
This seems like a lie doesn't it? Well, I heard about it in the Financial Post and even their readers were saying that there is no way this is true, so much so that the Corporate Communications Manager of FutureShop tweeted to say that this is true. Crazy, am I right?
You aren't getting junky games. You're getting three of the biggest releases of the year with a simple trade-in. Assassin's Creed 4: Black Flag, Call of Duty: Ghost or Battlefield 4: they cost nothing, you just need to go to the store and trade in any of your games. There is a limit of one per customer, per day. There are some other restrictions too, so read the whole post I linked you to up there. You better believe that my wife and I are going to be there Saturday and Sunday picking up copies of these. I don't even want them, I just want to flip them on Kijiji for $40 later on. If I never sell them, I didn't really lose anything.
The deal starts on the 9th and goes until the 11th. I guess this is also valid at Best Buy, but I haven't been able to confirm.
(Expires: 11th November 2013)