Future Shop Canada: 50% Off Massagers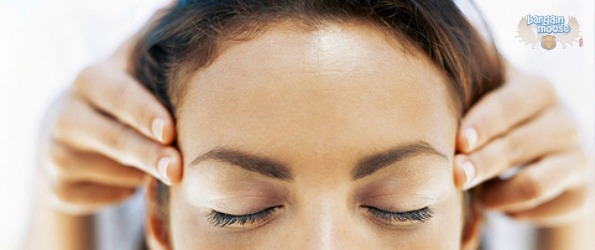 Today only and online only, Future Shop has some great deals on different types of massagers.
You'll save $100 on this deal of the day - a Pure Therapy head and eye massager. If you get headaches, or want a way to hide from your kids, this machine might make you look like a character from Star Wars, but it is designed to clear  your mind and alleviate tension. Using traditional Chinese acupressure with its massage nodes and high-frequency magnetic fields that target the temple, you will improve your mental clarity and get rid of stress. It has air pressure massage, four vibration modes and even heat, all designed to get rid of what ails you. Built-in speakers play calming music and nature sounds to total out the entire experience. Wondering if it will fit? It is fully adjustable. Was $199.99, now $99.99
Not technically a massager, but 50% off nonetheless, this ObusForme lowback seat combo looks like something I need. Long days in a chair with improper posture and sometimes I can barely straighten up when I stand up. This seat will keep me ergonomically correct. Was $99.99, now $49.99.
This ObusForme handheld body massager would make an amazing anniversary gift, along with the gift of using it on the person you intend to give it to. Hint, hint, hubby, 10 years coming up. Was $84.98, now $74.98.
Shipping is free when you spend $20.
Photo Credit: Terre et Cote Basques
(Expiry: 9th September 2013)