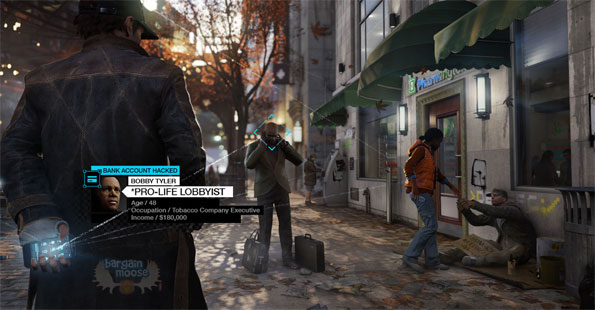 Still waiting to upgrade to a PlayStation 4? Then you might want to check out Future Shop's four day sale, because during the next couple of days, the PlayStation 4 Watch Dogs bundle is down by $70 to just $453.49 (reg. $523.49).
On its own, the PS4 with one remote retails for $453.49 at Future Shop and $449.99 at Walmart. The Source has it on sale for $429.99 right now, but since you're going to be needing a game to play anyway, then a bundle is the way to go. Costco has the Infamous Second Son bundle with two remotes for $564.99 and while it's definitely worth it because it brings the price of the console down to just $363.22 ($65.89 regular price for each remote + $69.99 for the game), if you have no need for the second remote or don't see yourself enjoying the included game, then the Watch Dogs bundle may be the way to go.
Since at Future Shop, Watch Dogs retails for $69.99, this means that with the bundle, you will actually be paying just $383.50 for the console on its own. Even better is that this is a highly acclaimed game with an average rating of eight out of ten. It basically revolves around the adventures of Aiden Pearce, a hacker who seeks to avenge the death of his niece. The cool part about the game is that you can choose to either perform the missions as a law-abiding citizen or in antagonism of the law. Here's how one reviewer quickly summed up this game:
Two words: Awesome game!
Xbox fans will also be delighted to know that the Xbox One 500GB Assassin's Creed IV: Black Flag bundle is also on sale for $503.49 (reg. $563.49). From the four day sale, there are also reductions on a couple of TVs, a washing machine, a laptop, speakers, cell phones etc. If you're in need of headphones, then you might want to check out the Sony over-ear MDRZX310APB headphones as they're now just $30.39 (reg. $50.39). They're $49.99 everywhere else and can be used with a smartphone for hands-free use, have an integrated microphone, and the ear cups can even swivel! Another feature I particularly like is that the cord is a Y-type, which typically helps to reduce tangles.
Shipping is free or you can also reserve it in-stores to pick it up as soon as possible.
(Image Credit: Ubi.com)
(Expiry: 14th July 2014)