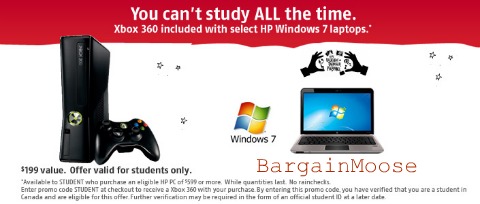 This deal is for students only! When you buy select HP Windows 7 laptopsof $599 or more at Future Shop Canada or Best Buy Canada, you'll get a free  Xbox 360 console ($199 value).
Discount: Free Xbox 360 4GB console
Coupon Code: STUDENT
After you add a select participating laptop(Future Shop) or participating laptop (Best Buy) to your cart, add this Xbox 360 console(Future Shop) to your cart or this Xbox 360 (Best Buy) and then add the coupon code at checkout to get the discount.
A note from Future Shop/Best Buy:
By entering this promo code, you have verified that you are a student in Canada and are eligible for this offer. Further verification may be required in the form of a valid student ID at a later date.
Click here for all details of this promotion
I didn't see anywhere that this deal applies to post-secondary students only, just that you have to have a valid student ID.
(Unknown Expiry)