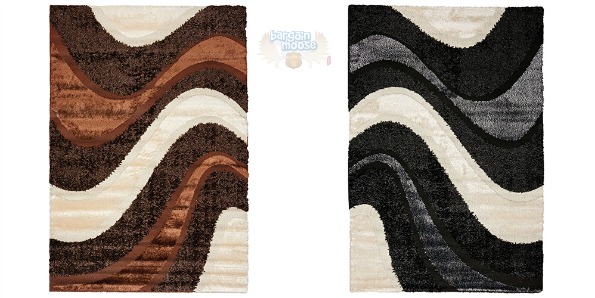 Future shop Canada has discounted two AG Home Fashion Shag 3' x 5' Rugs from $109.99 to $59.99. In addition, there will be no tax applied to your order, as all furniture is currently tax-free at Future Shop. The rugs cost over $25, so your order will also ship for free.
For price comparing, I could only find these rugs at Future Shop's sister store: Best Buy Canada. Currently, Best Buy is selling these rugs for $99.99 ($10 off). Given the size of the rugs, I think Future Shop's price is very good and this deal is only made stronger with no tax and free shipping. With no tax, you will save a minimum $3 (5%) up to $7.20 (12%) on your new carpet just in taxes.
These are both visually appealing rigs. At 3 feet by 5 feet, the rugs will cover a decent sized area and could be used in a bedroom or as a center rug in a small living room. If your front entry is rather large, this rug might also find a home there. The rugs feature an anti-static surface for easy stain, soil, and fur removal. They are also stain and fade resistant. With the latest technology, these carpets stay together better and can be vacuumed with ease.
I have been looking for a new rug to make my cat more comfortable in the apartment. We moved from carpeted floors throughout most the house to faux hardwood flooring throughout the entire apartment. After the first few head-plants into the wall, my cat got used to hardwood but never really liked it. He much prefers the comfort of a carpet to sleep and lay down on when resting.
Personally, as my apartment rests above a carport so floor insulation is rather pathetic, I also like the feel of a carpet under my toes. The floor becomes very cold during the winter so socks - or carpet - are necessary just for comfort. I have been watching carpets for a while but never found a decent sized carpet for a good price. This deal is just what I have been looking for.
Both carpets are online only and limited stock is available. The brown carpet is already under 20 carpets available.
(Expiry: 5th March 2015)