Omg! You won't want to miss out on this deal. The FurReal Friends 'Torch My Blazin Dragon' Interactive Plush Toy is allover kids' Christmas lists already. I noticed my local stores selling out of these super quick, and my goodness they are expensive. Everywhere (except Sears) is selling them for $119.99 right now, but Sears.ca has them on sale for 15% off which puts the price down to $101.99. Plus you can use the code THANKS25 for an extra $25 off $100, putting the price at $76.99 which is great!
The FurReal Friends Torch My Blazin Dragon is a playful little dragon who is learning the tricks of the dragon trade. He breathes flame-coloured mist (awesome) and interacts with your child when they pet his nose, touch his charm, etc. He can even toast the included marshmallow toy with his mist! Grab some C batteries as well because this guy requires 4 of them and they are not included.
Here is how the discount will look when applied after you enter your shipping information: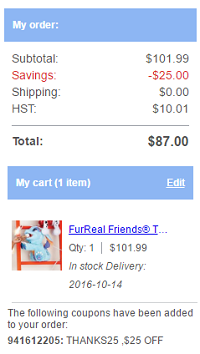 Sears.ca offers free shipping on orders over $99, or you can opt for free in-store pickup. Otherwise shipping is $4.95 which isn't bad when you consider the discounts!