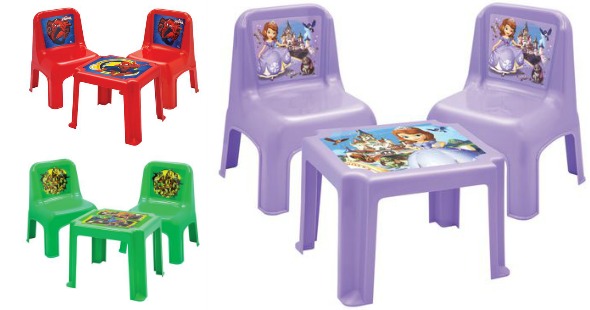 Around Christmas time last year I found myself looking for a table and chairs set that my son could sit at in the living room to colour or eat at while he watches TV. I really didn't want to spend $100 or more on something so temporary, but I fell in love with Walmart Canada's Funtime Table Set. They had a few different options so my son could pick, and they were beyond reasonably priced at $15. Well guess what Moosers!? These Funtime Table Sets are now on clearance sale for just $7! You can even choose from a few different shipping options.
While other Walmart.ca clearance deals are selling out at the speed of light, you may have more opportunity to snag this $7  Funtime Table Set. There are four different options to choose from, so if your first choice becomes sold out you can always grab a different set.
Here are the four different Funtime Table Sets available for just seven bucks at Walmart Canada:
The Ultimate Spider Man Funtime Table Set is what I bought for my son, and I even paid full price. We kept the set in the living room for quite a while, but ended up moving it outside as the nice weather came around. So this table and chairs set has held up to a climbing toddler, rain, sunshine and dogs even for almost an entire year. I can honestly say, it has been worth the money it has costed and when it does eventually need to be tossed, I will happily buy another of the same set. I wouldn't mind some new options though, since these four options have been the ones available for over a year. Maybe Minions chairs and table?!
For free shipping to your home you're going to need to spend $50 or more. That should be super easy considering the amount of hot clearance offers that have just been added to Walmart.ca's clearance section. I still can't believe these table and chair sets are just $7 each! If you don't end up spending $50, then there are two other free options. For one, you can get any parcel with no minimum purchase sent to your local Canada Post Office for totally free. If your local Walmart Canada has the Grab & Go Lockers, they are another free options.
(Expiry: Soon?!)